2019 Staffs Club Golfer Championship
(On-line entry available under the ENTRY FORMS TAB)
Click here for conditions of entry
2018 Staffs Club Golfer
Click here for Ingestre Park GC Div 1 Results
Click here for Ingestre Park GC Div 2 Results
Click here for Perton Park GC Div 1 Results
Click here for Perton Park GC Div 2 Results
Click here for Bloxwich GC Div 1 Results
Click here for Bloxwich GC Div 2 Results


2017 Staffs Club Golfer Championship
Click here for results of Trentham Park GC Division 1
Click here for results of Trentham Park GC Division 2
Click here for results of Druids Heath GC Division 1
Click here for results of Druids Heath GC Division 2
Click here for results of Penn GC Division 1
Click here for results of Penn GC Division 2
2016 Staffs Golfer Final 22nd September at Ingestre Park GC
For Division 1 results click here
For Division 2 results click here
2016 Staffs Club Golfer Qualifier Results
Click here for Aston Wood Division 1
Click here for Aston Wood Division 2
Click here for The Staffordshire GC (Swindon GC) Division 1
Click here for The Staffordshire GC (Swindon GC) Division 2
Click here for Greenway Hall GC Division 1
Click here for Greenway Hall GC Division 2
Qualifiers- J.Bailey, E.Birch, K.Robinson, S.Collins, J.Lowe, H.Barlow, M.Thomas, J.Thornhill, D.Ouslnam, S.Plant, D.Wise, D.Petersen, R.Tomkins, G.Wild, S.Bennett, P.Martin, M.Hughes, S.Foster, G.Adams, D.McCarthy, G.Sandland, M.Dunn, A.Calder, L.Rowley, M.Lewis, M.Umuru, C.Virk, C.McCarthy, D.Whitehouse, D.Whitehurst, J.Jordan, C.Carey, P.Docksey, A.Dathan, P.Holloway, P.Louca
Reserves- P.James, H.Gartshore, J.White, L.Walker, P.Bailey, J.Lawton.
The Staffordshire Club Golfer Championships held at Ingestre Park GC on the 24th September
29 Staffs golfers who qualified through the qualifying rounds back in June took on this excellent golf course. Some very good golf was played.
Results as follows:
Division 1 up to 12 H/C
1st K.Turner (Halfpenny Green GC) 43 pts
2nd Z.Medza (Walsall GC) 36 pts...
3rd J.White (Walsall GC) 36 pts
4th M.Hughes (Newcastle Under Lyme GC) 35 pts
Division 2 13-28 H/C
1st P.Kirbyshire (Newcastle Under Lyme GC) 33pts
2nd K.Edwards (Stafford Castle GC) 32 pts
3rd J.Hyde (Newcastle Under Lyme GC) 32 pts
4th M.Dillon (Oxley Park GC) 31 pts
K.Turner & P.Kirbyshire pictured below with SUGC County Secretary Martin Payne.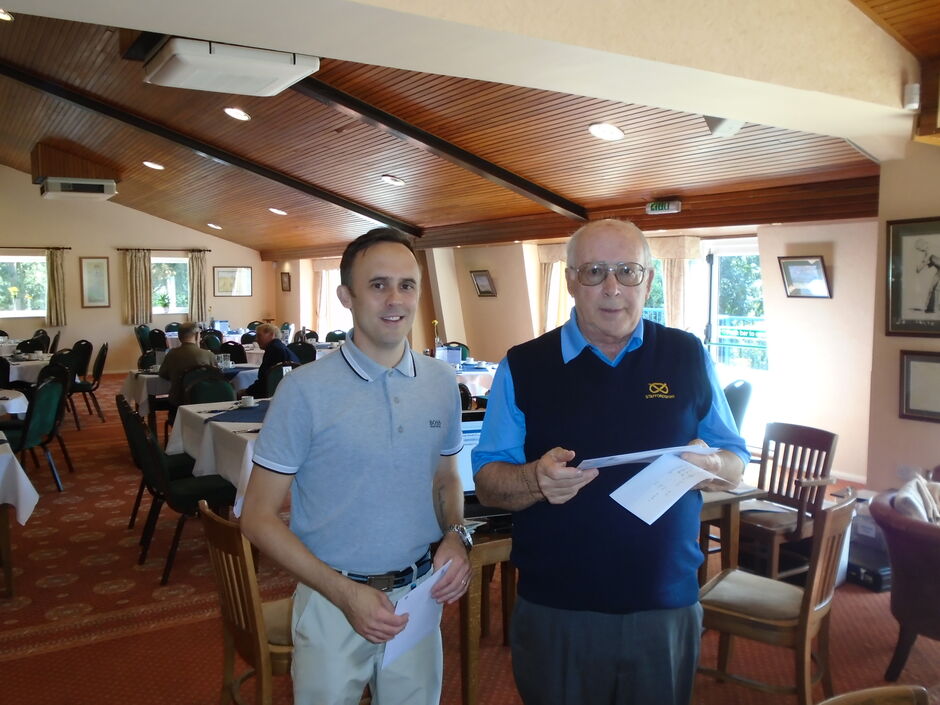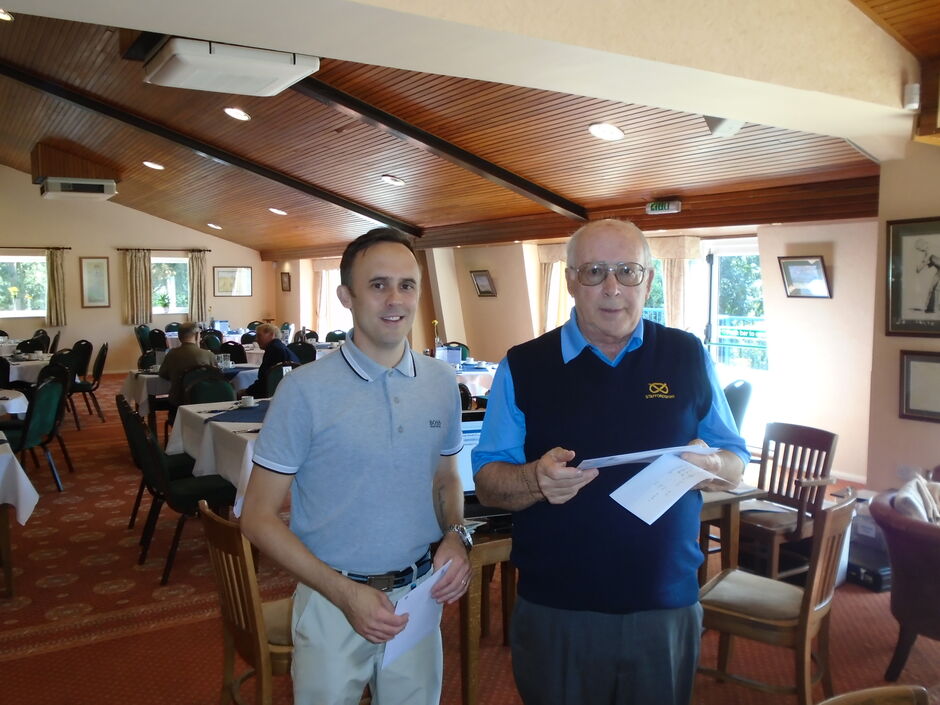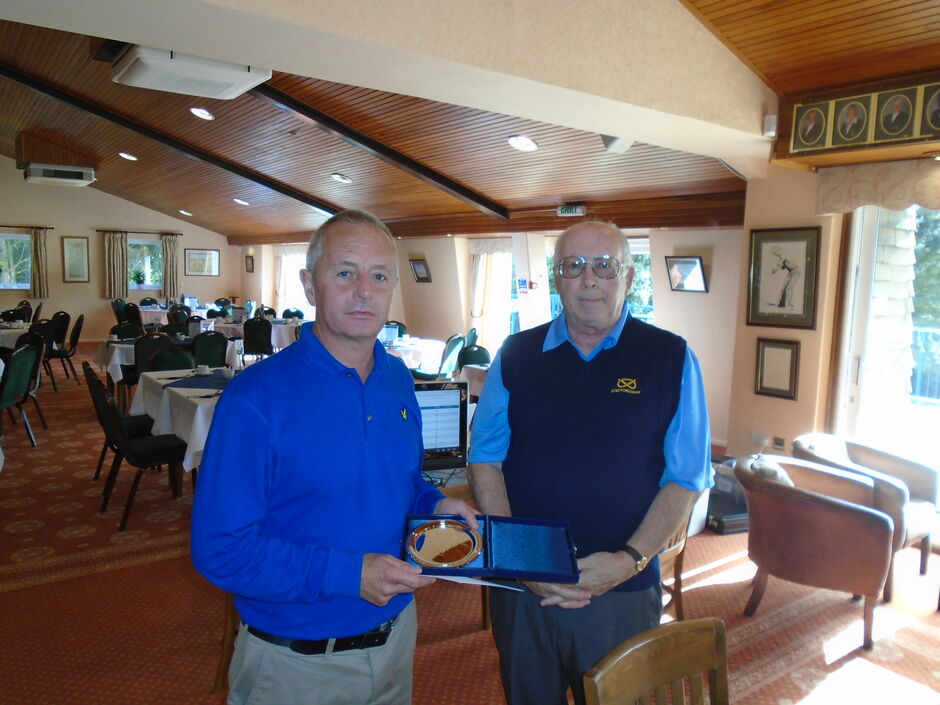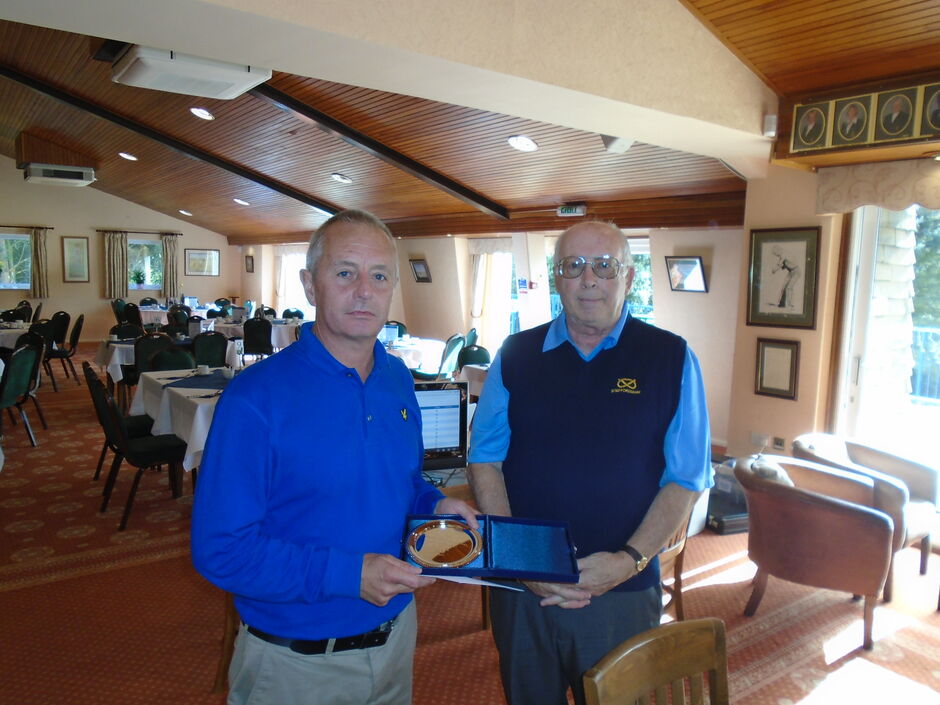 2015 CCG Results
2014 Results
Click on a link below to find out last years results.