County Week 2021
Monday 28th June
Staffs beat Shropshire 4 1/2 - 1/2
Rachel Bishop & Jenny Rhodes beat Isobel Green & Helen Davies 4&3
Julia Gaunt & Izzy Speck halved with Ellie potts & Jess Pitchford
Emily Brennan beat Sophie Johnson 1 up
Bronwyn Davies beat Vicky Bradbeer 8&6
Morgan Thomas beat Tania Pearce 6&5
Staffs lost to Nottinghamshire 3 - 2
Rachel Bishop & Jenny Rhodes halved with Carol Houghton & Vicki Johnson
Julia Gaunt & Katie Symonds beat Caron Harrison & Vicki Johnson 9&7
Emily Brennan halved with Maddy Smith
Bronwyn Davies lost to Amelia Wan 1 down
Morgan Thomas lost to Libby Kilbride 6&4
----------------------------------
Tuesday 29th June
Staffs beat Derbyshire 4 - 1
Rachel Bishop & Jenny Rhodes beat Catrin Russel & Debbie Deakin 1 up
Julia Gaunt & Izzy Speck beat Debbie Eaglefield & Sarah Lundy 7&5
Emily Brennan lost to Hannah Morrison 3&2
Bronwyn Davies beat Imogen Rafferty 1 up
Morgan Thomas beat Harriet Evans 1 up
Staffs lost to Lincolnshire 3 1/2 - 1 1/2
Rachel Bishop & Jenny Rhodes halved with Meg Illingworth & Tilly Garfoot
Julia Gaunt & Katie Symonds beat Helen McDougall & Tilly Kedzlie 6&4
Bronwyn Davies lost to Billie-Jo Smith 2 down
Morgan Thomas lost to Ellie Houghton 1 down
Emily Brennan lost to Ellise Rymer 2&1
-----------------------------------
Wednesday 30th June
Staffs halved with Leicestershire
Rachel Bishop & Jenny Rhodes halved with Gemma Parkes Walley & Holly Waterfield
Bev Chattaway & Katie Symonds beat Victoria Mayfield & Eleanor Parkinson 5&4
Emily Brennan lost to Karen Haynes 3&1
Bronwyn Davies lost to Carolyn Parkes Wally 6&5
Morgan Thomas beat Ellie York 1 up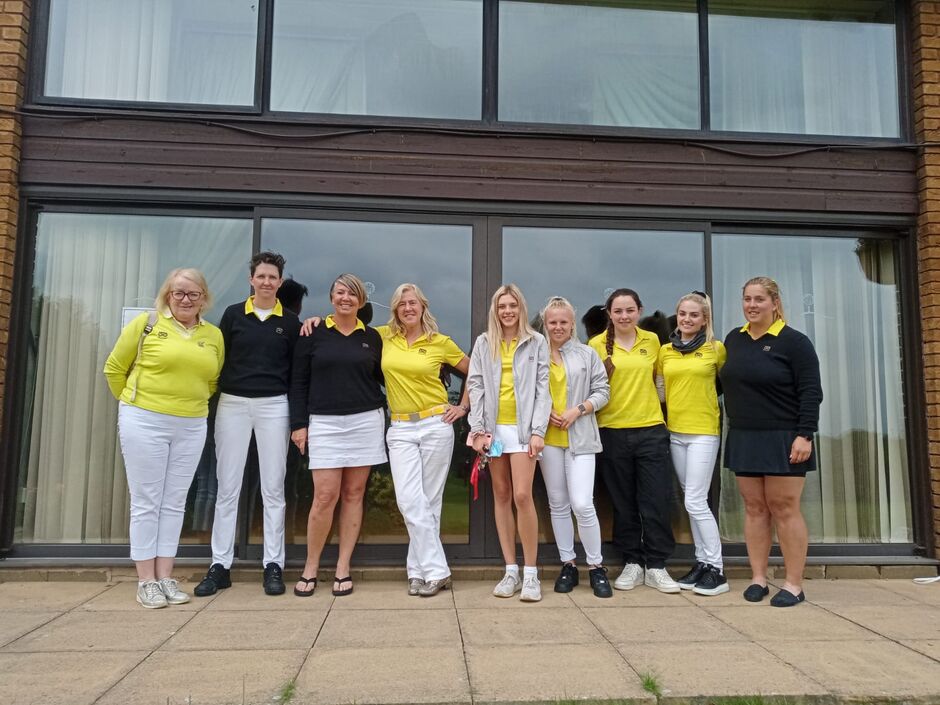 Another county week has come and gone, and whilst of course there is disappointment that Staffs didn't win, there are still a huge amount of positives to take away from Hinckley.
Initially when England Golf announced that they were moving the English Seniors Championship from May to the same time as our county week, I was worried about how much that would deplete our team. However, it turned out to be a blessing in disguise as it gave others a chance to shine. 18 year old Katie Symonds from Aston Wood and 17 year old Izzy Speck from Whittington made outstanding debuts. Playing with the experienced Julia Gaunt in the foursomes, Izzy had a half in her first match against Shropshire, followed by a 7&5 win over Debyshire, whilst Katie debuted with a 9&7 victory over Notts followed by 6&4 over Lincs, and then finished with a 5&4 win over Leics partnered by Bev Chattaway. How exciting is the future with these two on board?!
The ever reliable partnership of Rachel Bishop and Jenny Rhodes also continued, extending their unbeaten run to another 5 matches (2 wins and 3 halves) - even more remarkable considering they were dormie 2 and 3 down in successive games, but they always show such indominatable spirit.
So that just left the singles, which proved to be incredibly hard fought. There are no finer singles players in Staffordshire than +4 handicapper Emily Brennan, Morgan Thomas off +2, and Bronwyn Davies off scratch. They all conributed points, and I could not have asked any more of them in terms of commitment, effort and outstanding golf. So many of their matches went down to the wire and could have gone either way. Just a lipped out putt here, or an outrageously long putt holed by the oppostiton made the difference. There is absolutely nothing to choose between the top 4 counties, and as president Ann Rafferty succinctly put it, "They could all play each other ten times, and we would win five times, and they would win five times."
We had players whose wedges broke, and whose drivers broke, but the one thing that never broke was the team spirit, which was just outstanding. I couldn't be more proud of the way each and every member of the team conducted themselves and performed under extreme pressure. And believe me, the new system where the first team to win a mere 3 points wins is extremely pressurised!
So, in summary, yes, we would all have dearly loved to have been on our way to county finals now, but despite the disappointment, it was still a fantastic week that everyone enjoyed from start to finish. I have absolutely no doubt that this team will go on to achieve great things in the future, and I can't wait to be there to congratulate them when they do.
This year's county week will be at Hinckley GC in Leics from 28th - 30th
June. As ever, we welcome support and warmly invite you to come and
watch some excellent golf being played. The schedule is:
Mon 28th am Staffs v Shropshire pm Staffs v Nottinghamshire
Tues 29th am Staffs v Derbyshire pm Staffs v Lincolnshire
Weds 30th am Staffs v Leicestershire
It is always great to see yellow shirts / jumpers on the sidelines
cheering the team on, so hope to see you there.
Team
Rachel Bishop
Emily Brennan
Bev Chattaway
Bronwyn Davies
Julia Gaunt
Jenny Rhodes
Izzy Speck
Katie Symonds
Morgan Thomas
Madeleine Winnett


County Finals Week 17-21 September 2018
STAFFORDSHIRE WERE RUNNERS UP TO GLOUCESTERSHIRE IN THE 2018 NATIONAL FINALS
Team Selection :
Emily Brennan, Rachel Bishop, Bev Chattaway, Julia Gaunt, Lynn Gray, Emma Leech, Georgia Ann Pritchard, Jenny Rhodes, Georgie Taylor, Morgan Thomas, Gina Wilkie and Madeleine Winnett.
County Week 2018
Staffordshire are through to the Finals - to be played in September 2018
The final will be held at Royal North Devon Golf Club week commencing 17th September 2019.
Counties who are in the final are:
Yorkshire
Staffordshire
Buckinghamshire
Norfolk
Surrey
Gloucestershire
Please click here to view the course:
https://www.royalnorthdevongolfclub.co.uk/aerial_flyover
WOMENS COUNTY FINALS 2018 - DRAW
Monday 17th September

Match 1

Match 2

Match 3




Norfolk v Staffordshire

Gloucestershire v Yorkshire

Surrey v Buckinghamshire

Tuesday 18th September

Match 1

Match 2

Match 3




Gloucestershire v Surrey

Staffordshire v Yorkshire

Buckinghamshire v Norfolk

Wednesday 19th September

Match 1

Match 2

Match 3




Yorkshire v Buckinghamshire

Norfolk v Surrey

Gloucestershire v Staffordshire

Thursday 20th September

Match 1

Match 2

Match 3




Norfolk v Gloucestershire

Staffordshire v Buckinghamshire

Surrey v Yorkshire

Friday 21st September

Match 1

Match 2

Match 3




Surrey v Staffordshire

Buckinghamshire v Gloucestershire

Yorkshire v Norfolk
| | | |
| --- | --- | --- |
| Start Times | Foursomes | Singles |
| Match 1 | 08.30 | 12.45 |
| Match 2 | 08.54 | 13.33 |
| Match 3 | 09.18 | 14.21 |
Hollinwell Golf Club, Nottinghamshire
The name Hollinwell relates to the Holy well, located near the 8th tee, which provided natural spring water for the monks of Newstead Abbey centuries ago and is now providing refreshment for golfers.






Hollinwell Course
A Click here to download video of the course:
STAFFORDSHIRE TEAM
RACHEL BISHOP
EMILY BRENNAN
BEV CHATTAWAY
FERN CLARK
JULIA GAUNT
EMMA LEECH
JENNY RHODES
SUE SPENCER
GEOGIE TAYLOR
MORGAN THOMAS
MADELEINE WINNETT
County Week Officials
| | | |
| --- | --- | --- |
| | PRESIDENT | CAPTAIN |
| NOTTINGHAMSHIRE | Maureen Clarke | Glenys Priesteley |
| LEICESTERSHIRE & RUTLAND | Moira Page | Cath Arter |
| LINCOLNSHIRE | Jayne Crooks | Helen Dawson |
| DERBYSHIRE | Paul Longden | Judy Gasgoine |
| SHROPSHIRE | Olive Brown | Anne Weetman |
| STAFFORDSHIRE | Diana Jeynes | Jenny Rhodes |
| | | |
| | | |
| | | |
| | | | |
| --- | --- | --- | --- |
| | MATCH 1 | MATCH 2 | MATCH 3 |
| DAY 1 | Derbyshire | Leicestershire | Shropshire |
| | Staffordshire | Nottinghamshire | Lincolnshire |
| | | | |
| DAY 2 | Leicestershire | Staffordshire | Lincolnshire |
| | Shropshire | Nottinghamshire | Derbyshire |
| | | | |
| DAY 3 | Nottinghamshire | Derbyshire | Leicestershire |
| | Lincolnshire | Shropshire | Staffordshire |
| | | | |
| DAY 4 | Derbyshire | Staffordshire | Shropshire |
| | Leicestershire | Lincolnshire | Nottinghamshire |
| | | | |
| DAY 5 | Shropshire | Lincolnshire | Nottinghamshire |
| | Staffordshire | Leicestershire | Derbyshire |
Staffforshire win 3 matches halved 2 matches and lose one match in the singles this afternoon Resulting in a 7. 2 win against Derbyshire Well played ladies great start to the week 👊⛳☉😁