Junior News
End of Year Celebration Competition 2017 - Three Hammers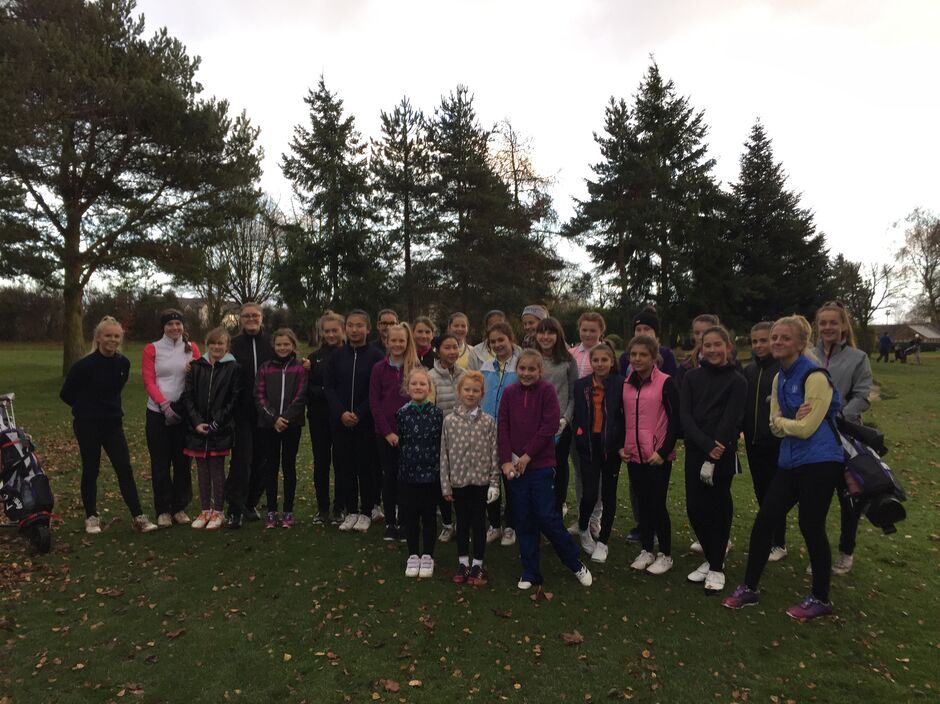 Staffordshire County Girls
On a cold but dry December day we played our end of year celebration competition at Three Hammers. All girls on the County Pathway were invited, from the girls playing off single figure to the little ones without a Congu handicap. This event was played in great spirits and saw the older girls caddying and helping the younger ones. It was a fitting end to another great season. Have a very Merry Christmas and see you in the New Year!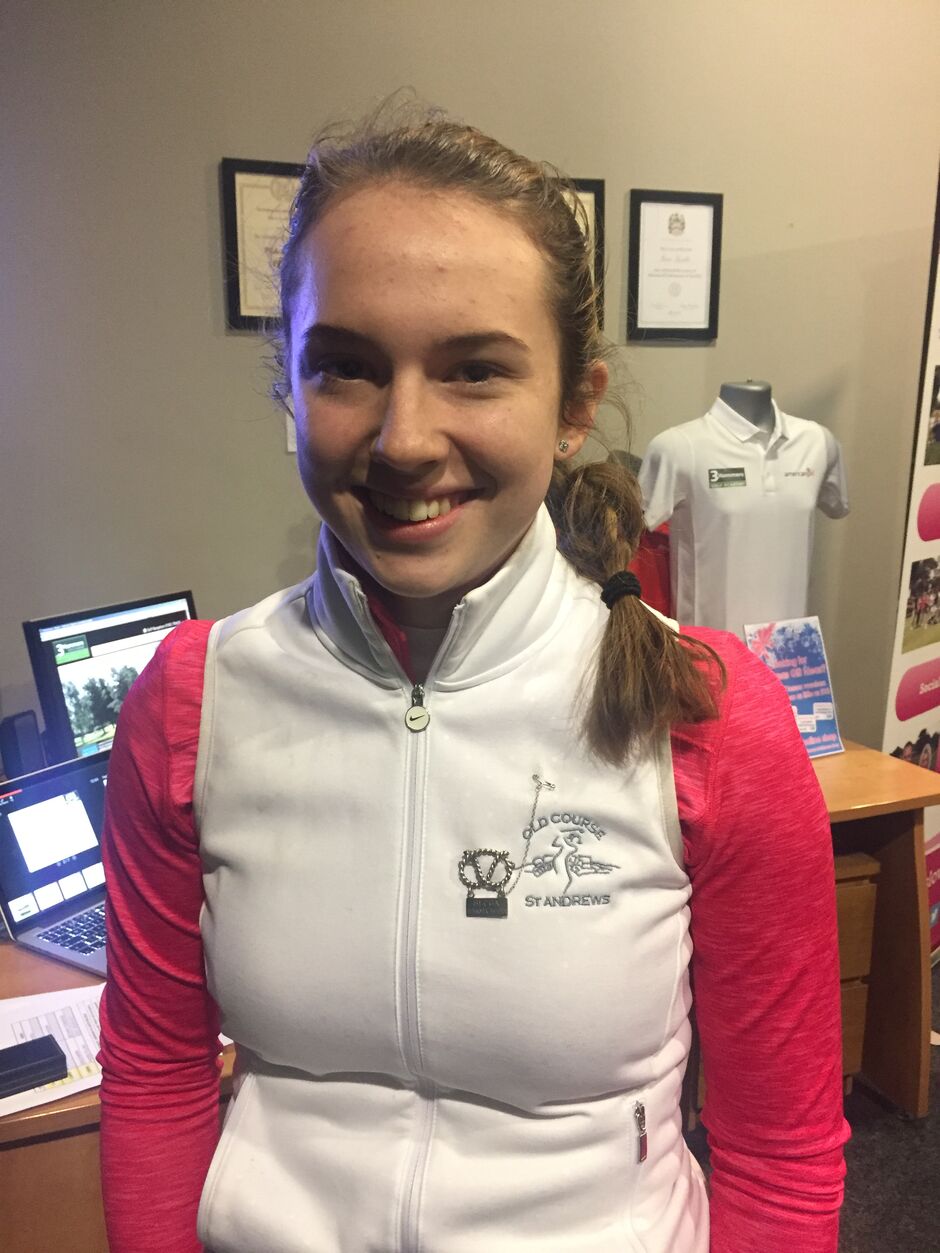 Rachel Birch - County Junior Captain 2018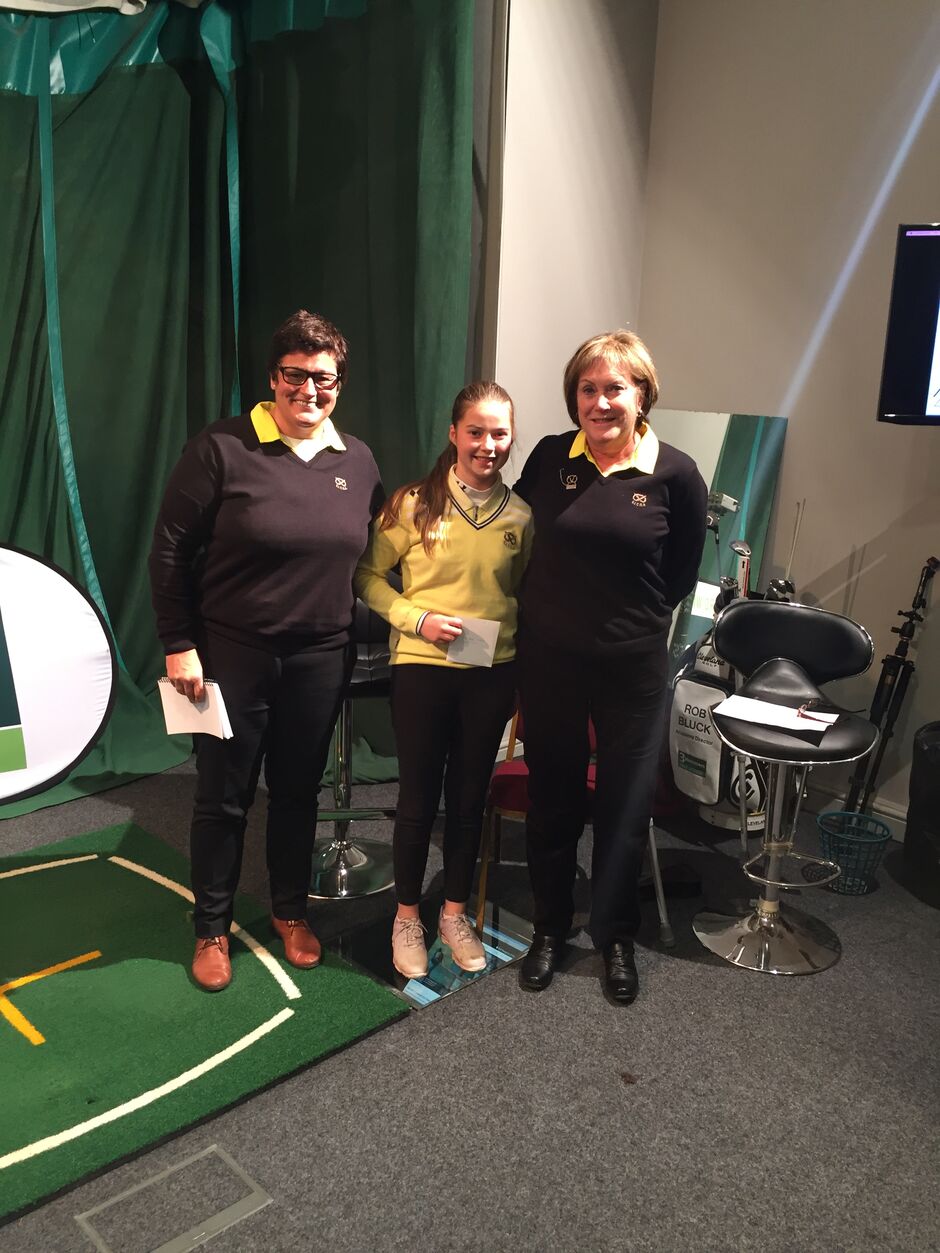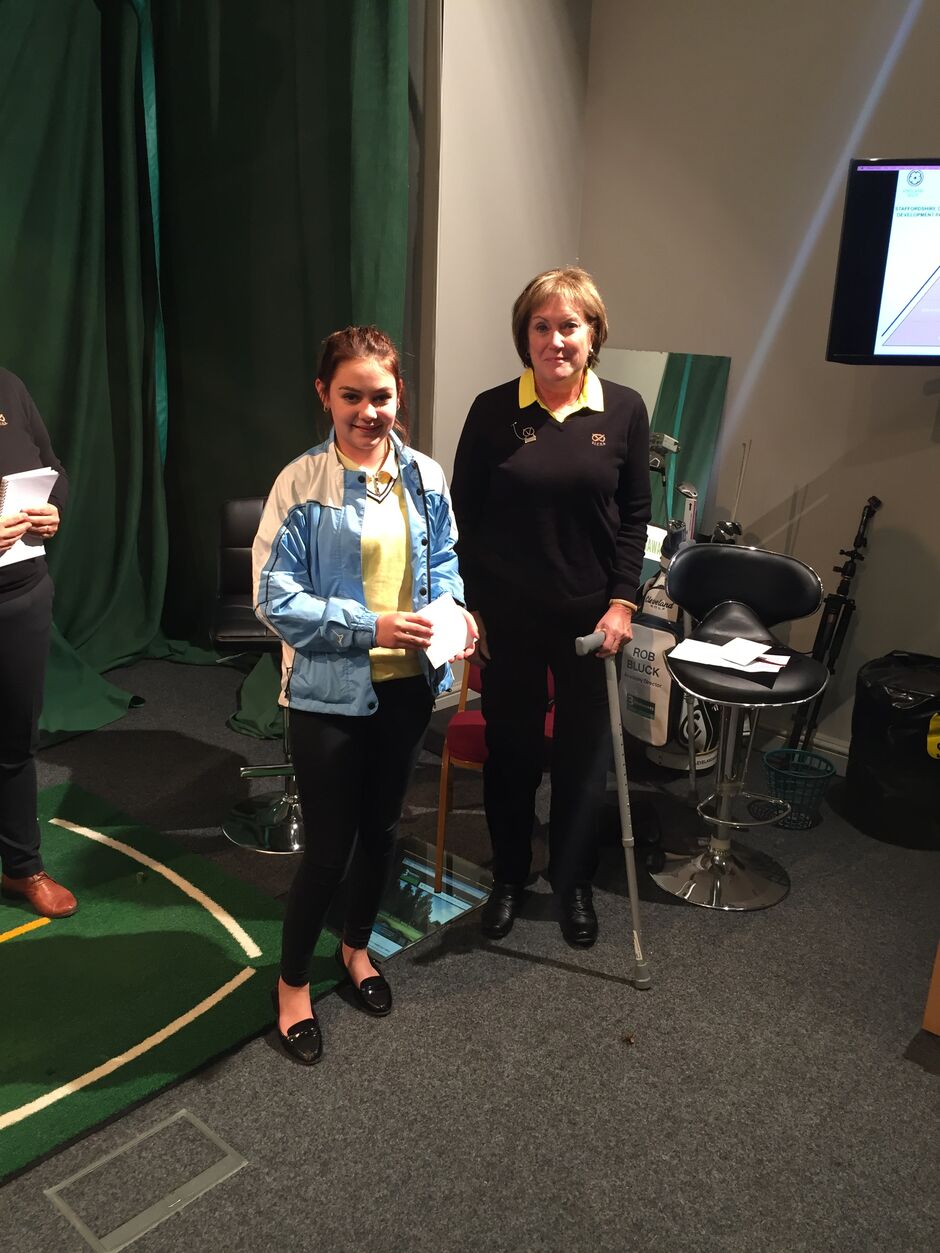 Winner Best Gross - Hannah Golding Winner Best Nett - Kate Smith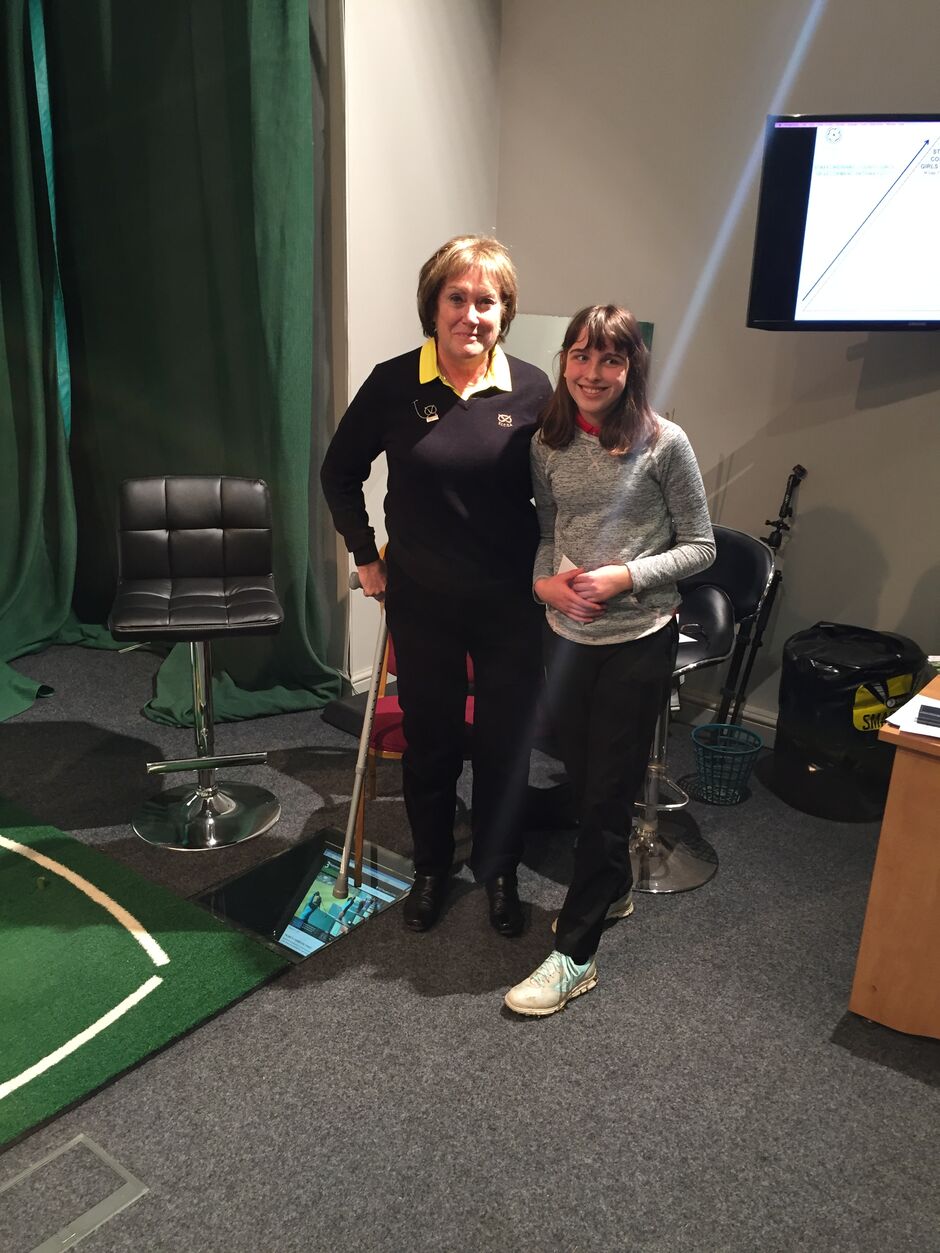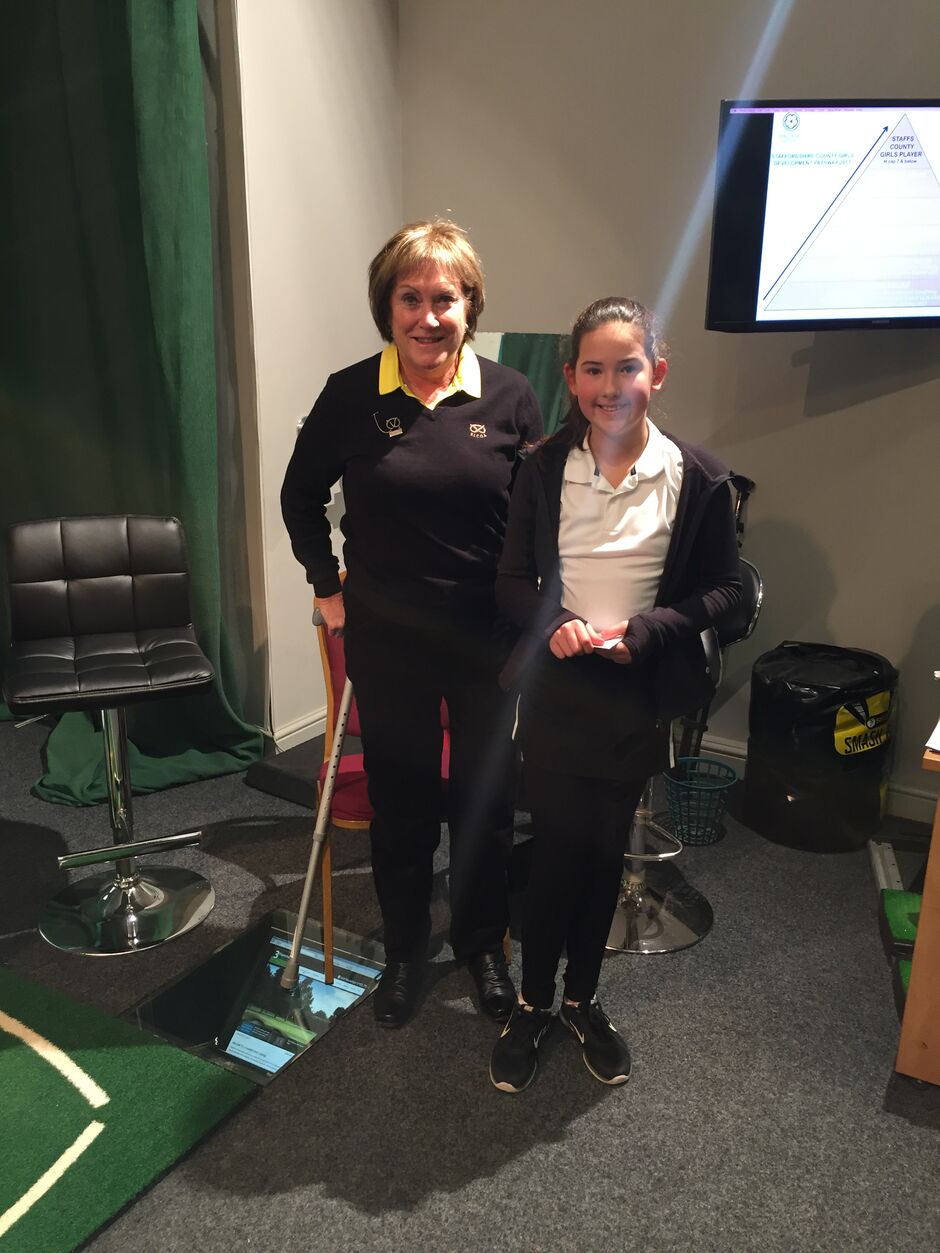 Winner 9 Hole - Alice Higginson Winner Flag Comp - Emilla Harris
Anglesea 2017


Girls Festival of Golf - Trentlock - 21st August 2017
A great day had by all, and it didn't rain !
A good finish for the Staffs Girls Scratch Team who came runners up to Nottinghamshire in the Midlands North Region Scratch League. Losing by 1/2 a point. So many girls played in the team this year,
Georgia Pritchard
Morgan Thomas
Rachel Birch
Ella Pugh
Hannah Golding
Katie Symonds
Kate Matthews
Jasmin Luo
Phoebe Perks
Thank you to Ella Pugh for being this years Team Captain and for supporting the County Girls over the past 5 years. Ella also won her County Colours which were presented at her last Girls Match today.
The second Team who have played this year and gained a tremendous amount of experience
Georgia Lynn
Holly Branson
Chloe Williamson
Maria Tiffany Thompson
Georgia Chapman
Kate Smith
Izzy Robinson
Ellie Treadwell
Olivia Whittle
Saskia Robinson
Caprice Sanders
Abbie Talboys
Caitlin Metcalfe.
2 new players on the scene this year, Emilia Harris and Izzy Austin, looking forward to seeing more of you in our beginner competitions.
Our future County Stars !
A huge thank you to all the Staffordshire County Committee who helped to make the festival such a success
Lynn Gray
Wilma Kyle
Marjorie Leece
And supporters President Diana Jeynes and Louise Manning.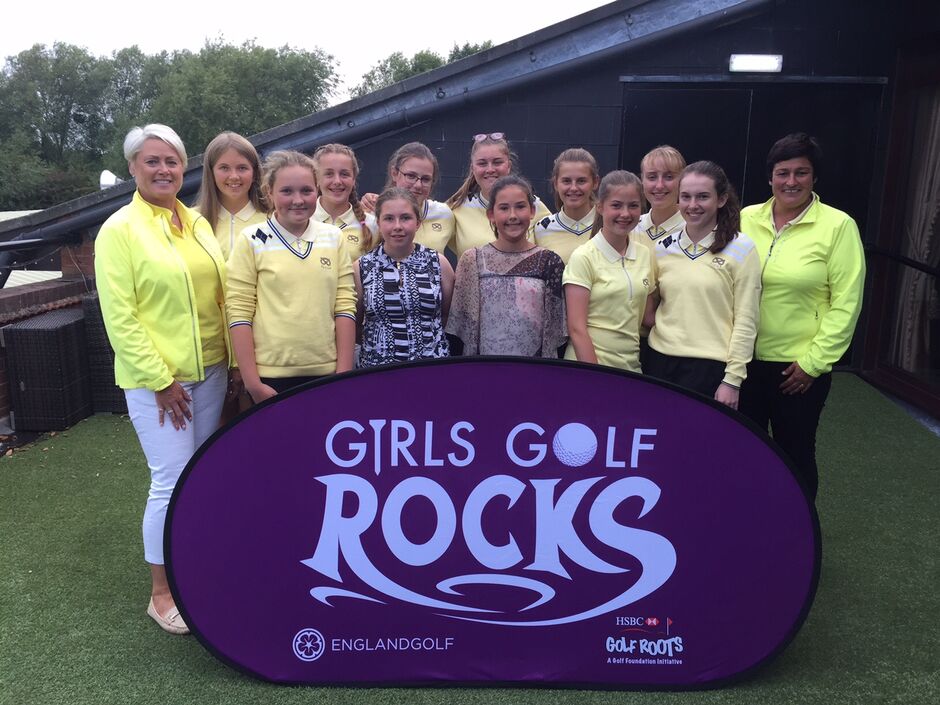 2017 Silver Division, Bronze Cup, Blue Competition and Rabbits
The Girls' Competitions were played on 14th August at Stone Golf Club.
Happily, the rain stopped just as the first girls went out.
Results were:
Silver Division
1st Katie Mathews (31 points), 2nd Chloe Williamson (24 points), 3rd Olivia Whittle (22 points)
Bronze Cup
1st Georgia Chapman (39 points), 2nd Tanya Collins (38 points) 3rd= Neve Collins and Mia Sepe (37 points)
Blue Competition
1st Jamie Hand, 2nd Isla Cotterill, 3rd Izzy Austin
Rabbits Competition
1st Katrina McAvoy (73), Charlotte Johnson (75), Phoebe Collins (82)
Many thanks to Stone for hosting and to Wilma for her organisation
Hannah Golding - Winner of the North of England U14 Girls Championship

Hannah being presented with the Trophy and a commemorative salver by Roy Case, Chief Organiser of the Championship.
A fantastic result following a hard, competitive week playing three rounds in very different and, at times, difficult conditions.
Each day presented different challenges:
Day 1 - Bright but cloudy with blustery winds
Day 2 - Heavy overnight rain followed by torrential downpours in the morning which led to play being suspended for 50 minutes.
Day 3 - Fine and dry but extremely windy
Hannah coped magnificently shooting Gross 78 (Nett 71) on Day one and Gross 80 (Nett 73) on Days two and three.
As a result, Hannah will hopefully reach her targetof 5 handicap for this year.
The Handicap Team Prize was won by: Hannah Golding, Kirsten Porte and Constance Brooks (Brocton Hall, Gaudet Luce and Worcestershire) with a Nett Score of 281
Hannah and Kirsten were the first to tee off on Day 1, racing round in 2hrs 50 mins. They probably took the initial comments from the starter about avoiding slow play to heart.
Hannah is now off to the English Girls U14 Open at Borden in Hampshire - GOOD LUCK HANNAH!
County Girls v Lincolnshire - Wednesday 26th July
The County Girls played their North Region League matches today at Telford Golf and Country Club against Lincolnshire in heavy rain. This did not deter the girls from playing really well, winning 31/2 - 11/2.
In the afternoon, they played Leicestershire and Rutland in glorious sunshine, winning 4-1.
There were significant wins throughout the day - Hannah Golding winning by 7/6 and Katie Symonds by 6/5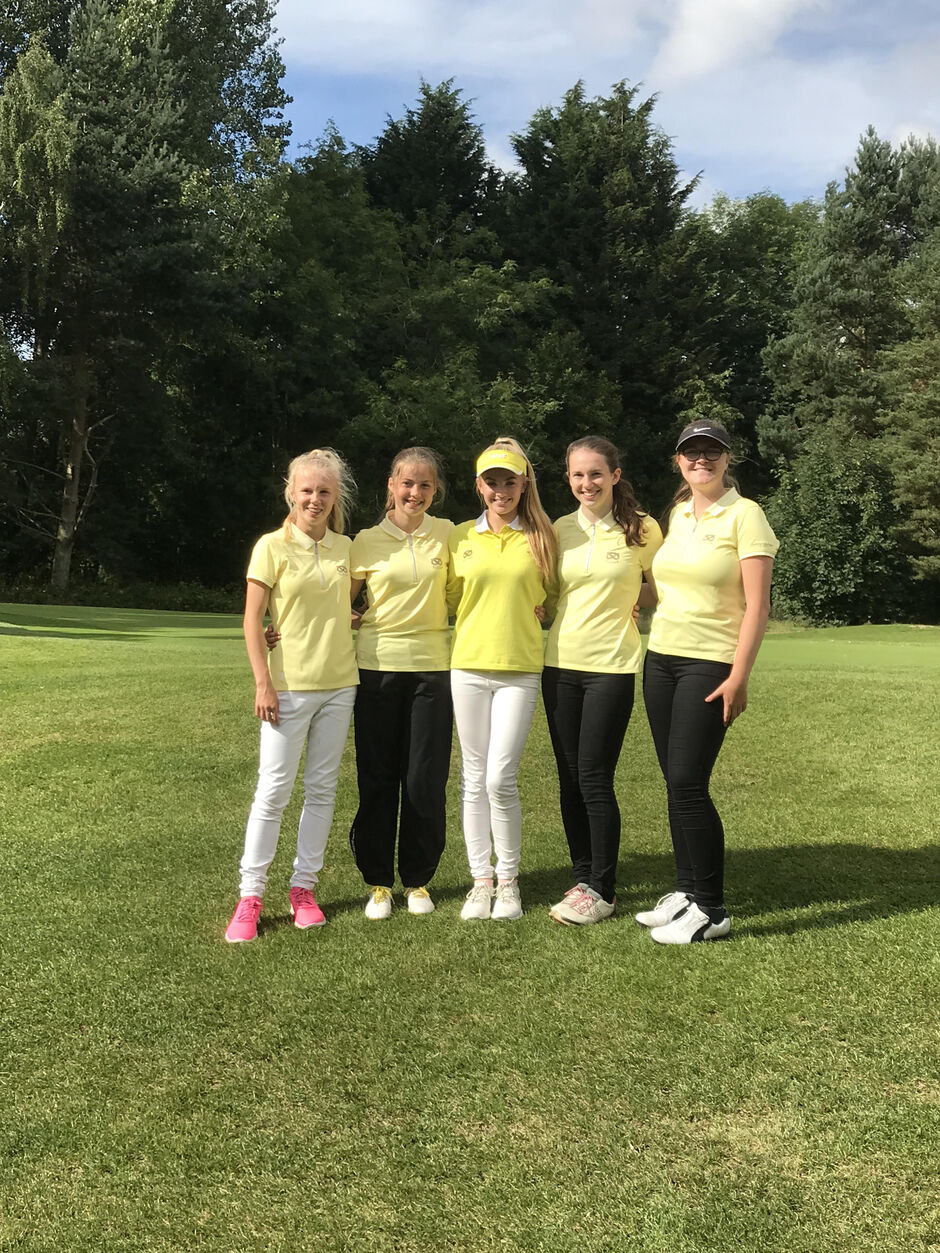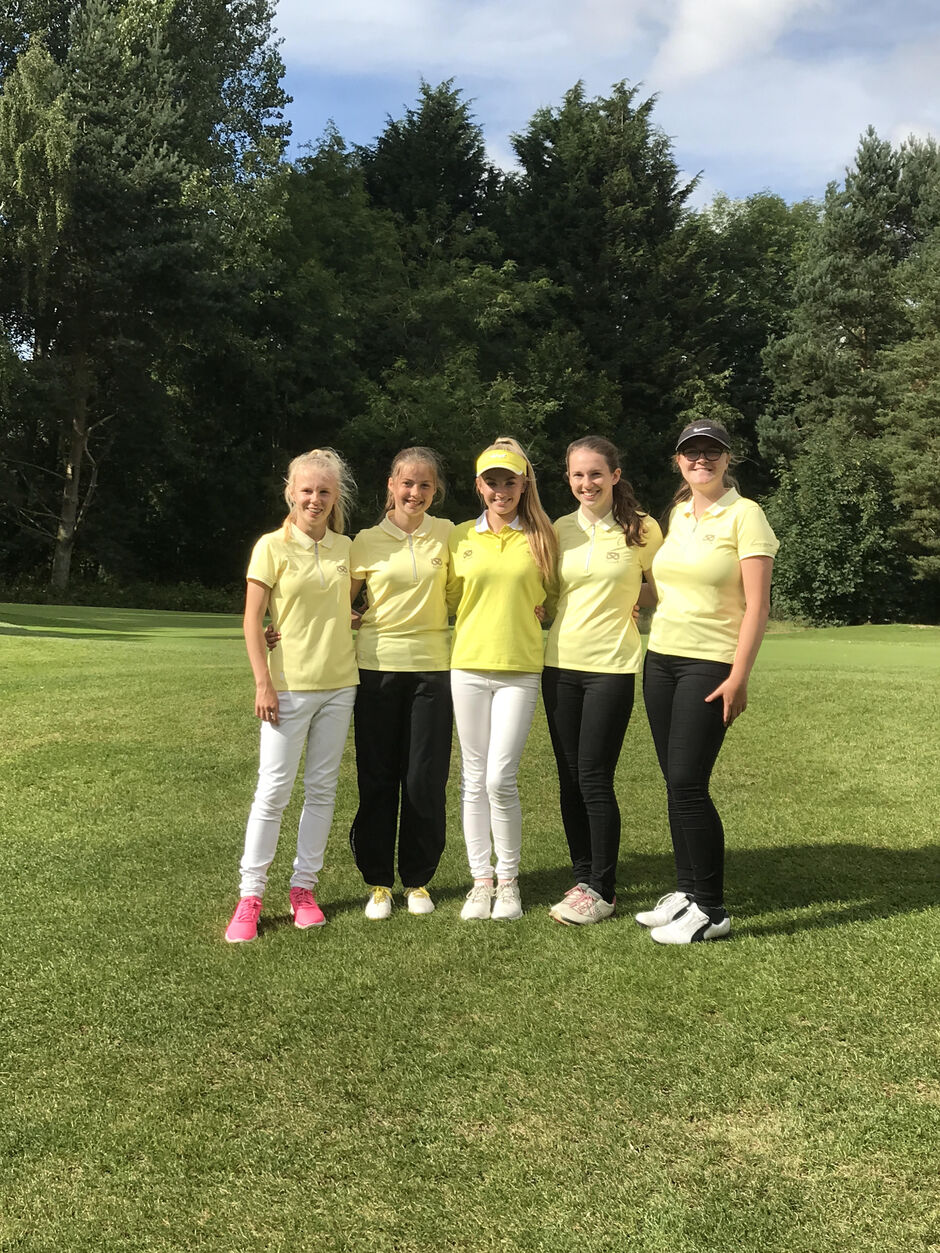 Katie Symonds, Hannah Golding, Morgan Thomas, Rachel Birch and Ella Pugh
WELL DONE GIRLS!!
County Girls v Cheshire - Sunday 25th June 2017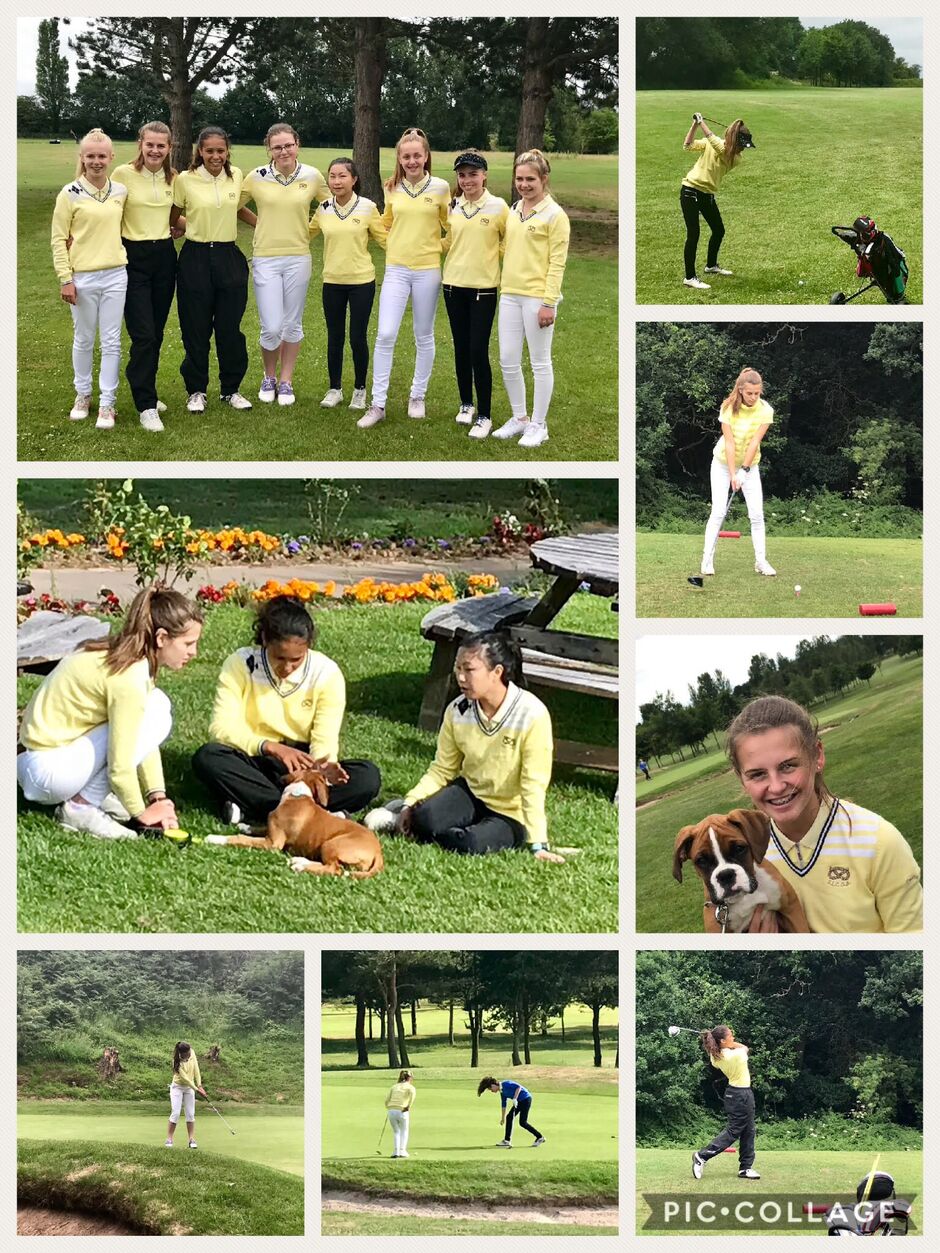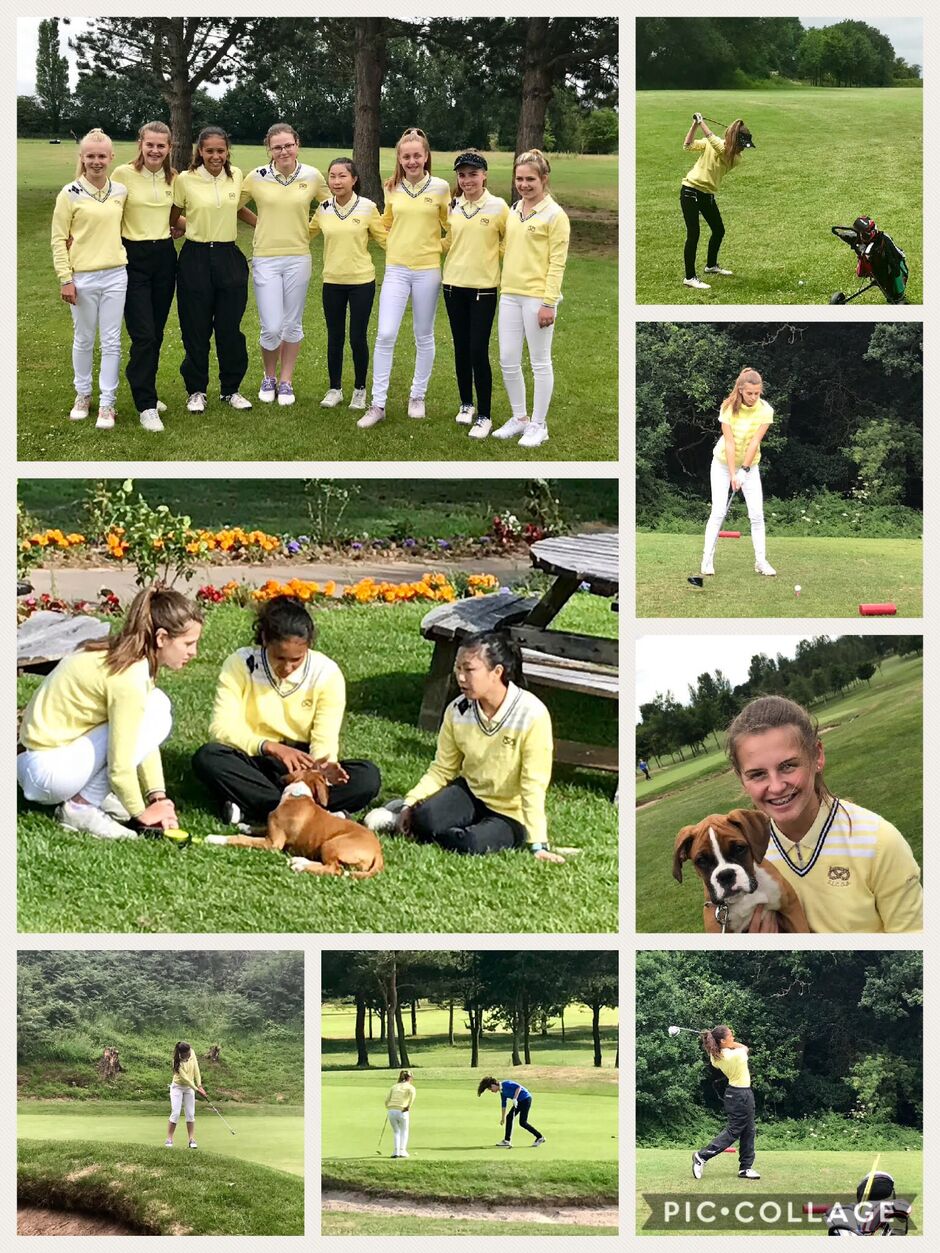 Katie Symonds, Jasmin Luo, Kate Matthews, Caprice Sanders, Holly Branson, Georgia Lynn, Georgia Chapman, Kate Smith and brand new mascot Daisy
The girls played Cheshire in a friendly at Malkin's Bank with a midday tee time on Sunday 25th June 2017
The weather was kind and we stayed dry albeit slightly cold! Cheshire fielded a very strong team which made it a tough contest. The girls were on form following their County Week..
We put up a good challenge but overall they proved hard to beat the score being 51/2 - 71/2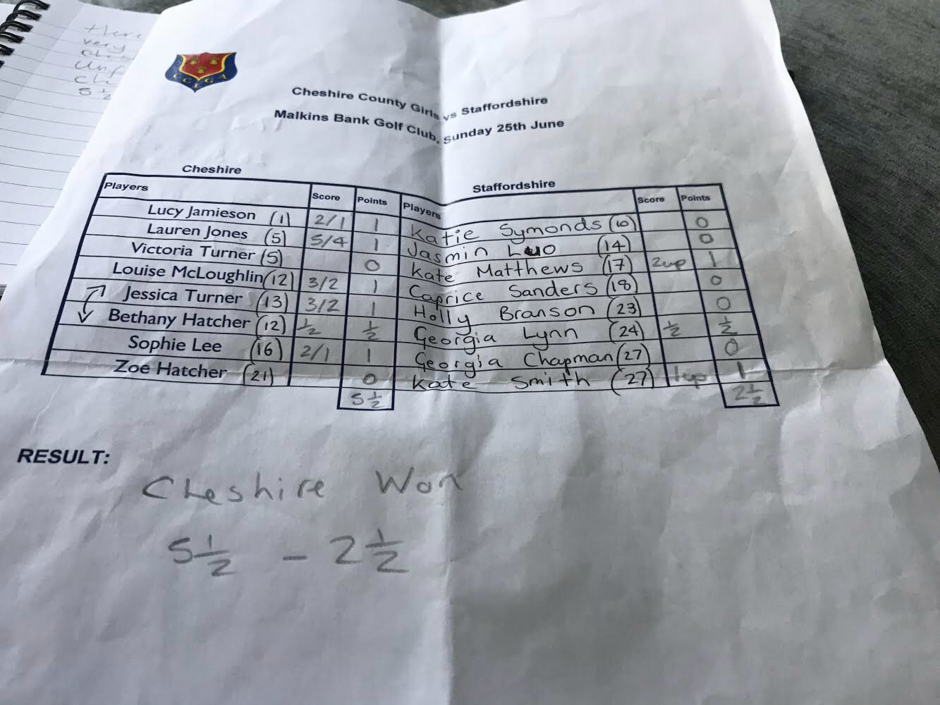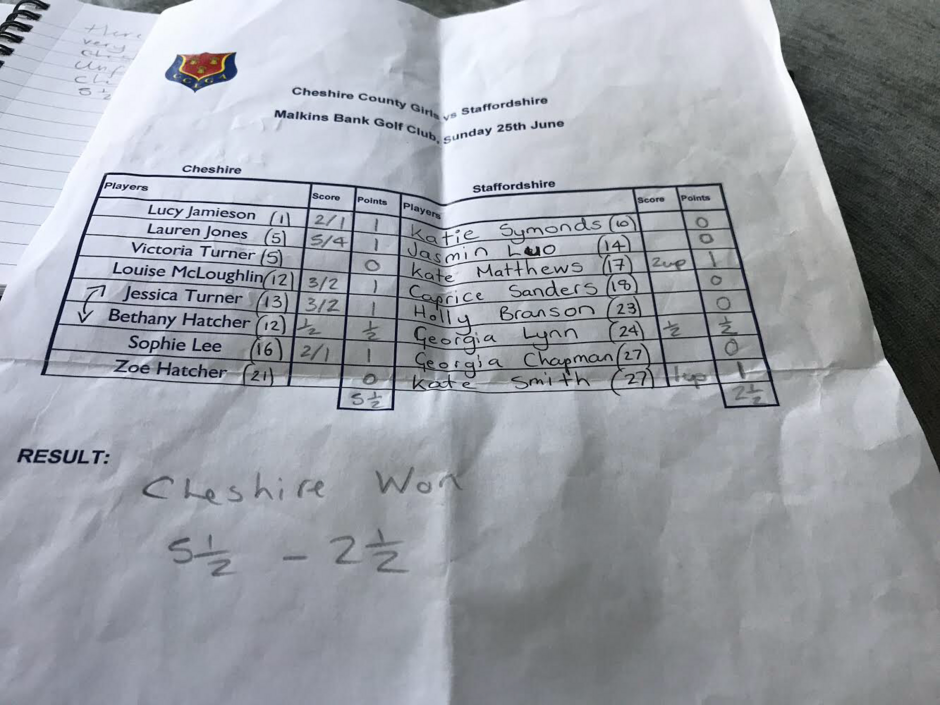 County Girls v Worcestershire and Herefordshire - 18th June 2017
The girls played a handicap match in sweltering conditions on a very hilly course at Halesowen.
They fought well and showed real team spirit.
The standard of golf was high on both sides with the opposition just pipping us to a 7.5 - 4.5 win
Well done girls!
Junior Competitions - 14th August 2017 at Stone Golf Club
Could parents please email Wilma with their daughter's age and handicap (whether CONGU or Club) and which competition they wish to enter:
The competitions are :
1 Bronze Cup CONGU handicap 21 to36 18 holes off red tees
2 Blue Competition club handicaps 18 holes off blue Tees
3 Beginners Championship 9 holes off blue Tees
4. Silver division 18 holes off red Tees (This is for any silver division player who wishes to play in it)
MNR Handicap League - The Shropshire Golf Centre
The girls played Shropshire at The Shropshire Golf Centre in the MNR handicap league.
We saw some fantastic golf played with one of the girls winning 9/8 !!
Well played everyone for a halved result.
Caprice Sanders
Georgia Lynn
Holly Branson
Chloe Williamson
Maria Tiffany Thompson
Georgia Chapman
Kate Smith
Saskia Robinson

Midland Schools Girls Championship - 2nd June 2017

Hannah Golding, Brocton Hall (8th), Morgan Thomas, Beau Desert (1st), Georgia Pritchard, Beau Desert (4th)
Many congrtatulations girls on winning the Girls Team Prize at the Midland Schools at Ignon Manor!
Morgan Thomas won by 5 shots from Sophie Johnson, shooting -1 & -5 (-6 total) and it has been confirmed that her 2nd round score she broke the Ladies course record at Ingon Manor GC.
Junior League Match, Holme Hall, Lincs
The team: Katie Symonds, Phoebe Perks, Kate Matthews, Hannah Golding, Jasmine Luo
With an early tee time on a grey, damp morning the girls played against Derbyshire.
After a slow start, they battled well winning 4-1
The heavy showers had almost passed over when they were out again against Nottinghamshire.
The top matches were very tight going all the way to 18!
The opposition were tougher in this match and a 2.5-2.5 draw was a good result.
The girls showed real determination and a great team spirit
WELL PLAYED!
Staffordshire Greensomes Championship -
Uttoxeter GC - 21st May 2017
Uttoxeter hosted the 2017 County Greensomes on a lovely sunny day.
A small field but everyone was enthusiastic and had a great time

Winners with 33 points: Runners up with 28 Points:
Abbie Talboys Branston GC GIll Scott Barlaston GC
Lynn Gray - Drayton Park GC Georgia Chapman - Barlaston GC
Rabbits Championship - Lichfield - 9th April 2017
Girls who had a at least one 3 on their cards
America Taylor Trentham
Mia Sepe Trentham
Charlotte Taylor Aston Wood
Never Collins Chase
Jamie Hand Aston Wood
Olivia Robson Aston Wood
1st Amelia Taylor Trentham 40
2nd Mia Sepe Trentham 41
3rd Charlotte Taylor Aston Wood 43
4th Jamie Hands Aston Woods 44
Ruby Horobin Beaumont Desert 44
This year the Rabbits Trophy was played under sun and blue skies
The scores were very good this year. They must have been practising hard over the winter
We had two little girls who had never played in a competition, in fact one had never played on grass. Their scores were very good and they both were ready to continue on. They are looking forward to the next competition in August.


Staffordshire County Girls Championship - 20th April 2017
Congratulations to all who took part in this years championship
2017 Runner Up Ella Pugh (Walsall) 2017 Champion - Georgia Pritchard(Beau Desert)
Bronze Plate runner up: Bronze Plate winner:
Chloe Williamson (The Chase) Kate Smith (Sandwell Park)
2nd Nett - Kate Matthews (Trentham) Best Nett - Ella Pugh (Walsall)
Under 16 Champion Rachel Birch (Bloxwich) Under 14 Champion Katie Symonds (Aston Wood)
Thanks to Sandwell Park for hosting the Championship in 2017, to Julie and Lyn for organising the event and to Wilma for her refereeing skills.
Girls v County U16 Boys - Trentham - April 2017
The girls played the County U16 Boys at Trentham today. We couldn't have asked for a better Spring day !
The girls lost 5 - 3 to a very good boys team. Thank you to Trentham Golf Club for allowing us to play the match and for their hospitality.





County Training

Girls last training sessions before season starts 2017
Last session of winter County Training at Astbury Hall.
Thank you to Rob Bluck and Olivia Raybould for all the tuition and advice given to the girls elite players over the last 3 months.
County Girls end of season get together 6th November 2016 Lichfield G&CC
Good turnout today in very cold and wet conditions,
Thank you to the golf club for allowing us to play the Par 3 course.
Emily Suttons and Holly Hunt will no longer be juniors from January next year. Thank you to both of them for their commitment to Staffordshire Girls Golf.
Photographs
1. Ella Pugh Walsall GC Jnr Vice Captain 2017 with new incoming Captain Emily Brennan Trentham.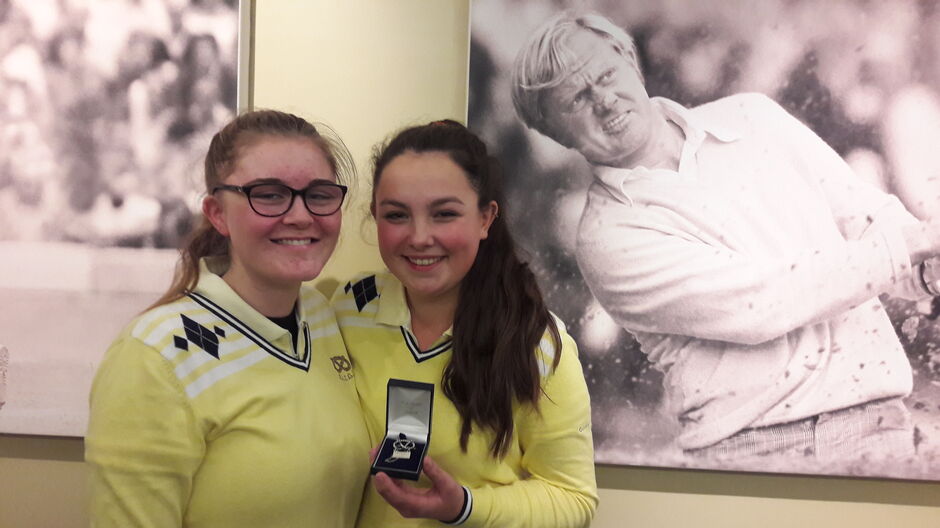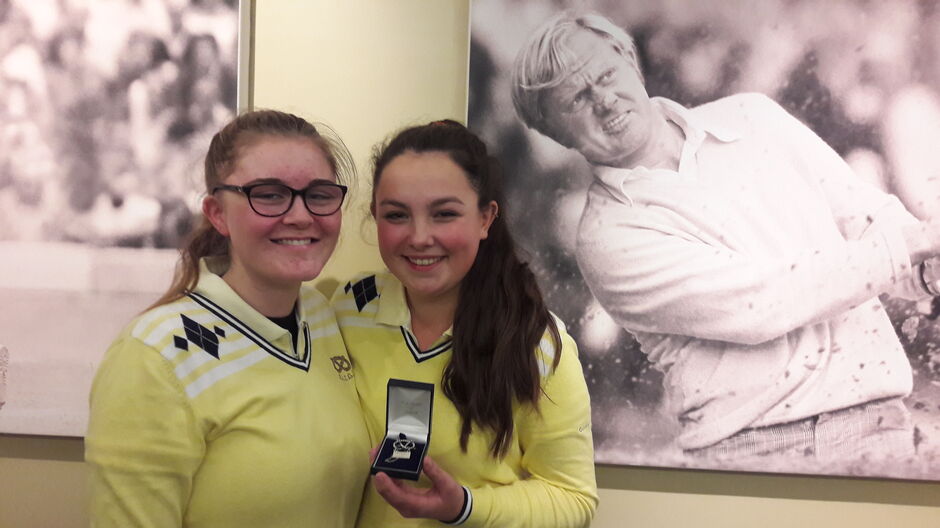 3. Rachel Birch Bloxwich GC & Georgia Pritchard Beau Desert GC receiving their county colours .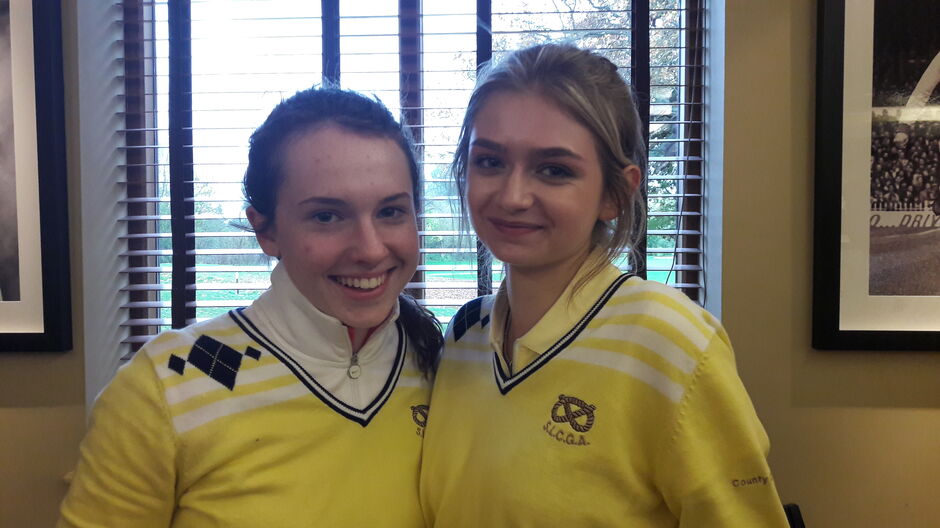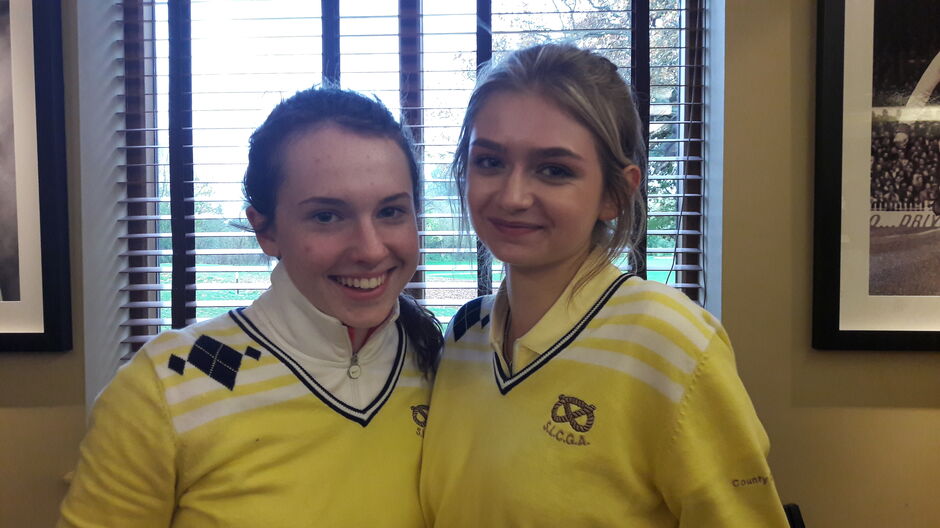 4. Winning Team, Georgia Pritchard Beau, Amelia Taylor Wolstanton, Jamie Hand Trentham.





Anglesey Weekend
8/9 October - Henllys Hall Golf Club Saturday and Bull Bay Golf Club Sunday
10 girls attended the weekend all of different abilities and ages. The youngest being 13 and the oldest 17.
The weather was very good again for the third year !
Rob Bluck and Tom Gibbs from the 3 Hammers Golf Complex came along to watch the girls play, give instruction and reports to their home coaches. They were shown how to work together in teams using a course planner discussing how to play each hole.
They played a stableford competition over the 2 days for the Turner Trophy, both round scores are added together for a winning total.
The winner was Leann Nixon from Leek GC. With a total of 69 points Runner Up Phoebe Perks from Aston Wood GC 68 points 3rd place Katie Symonds from Aston Wood GC 67 points.
Team Competition was won by Hannah Golding Brocton GC, Leann Nixon Leek GC, Georgia Lynn Trentham GC
Henllys Hall winner Phoebe Perks 32points Bull Bay winner Leann Nixon 40 points.
The girls had time to relax on the Saturday evening and team bonding as the hotel had a swimming pool, where they spent a couple of hours.
Many parents also attended which made for a sociable weekend.
John Jump ( Sue Turners father ) also attended the prize presentation on the final day. He showed us a photograph of Sue with all her honours which the golf club had framed and mounted.
Ironically, it was the Ladies Section Breast Cancer Awareness golf day, so we were able to donate to their day and have some of their home made cakes.




MNR Festival of Golf 2016 - Trenlock
What a day was had at Trent Lock golf club where 6 counties converged to play in Finals matches and 9 hole competitions. 120 girls from the Midlands North, from Elite players to beginners all embraced the atmosphere and even the CJOs tried the putting challenge.
Dignitaries from all of the counties including our own, Diana Jeynes, Penny Small and Louise Manning, were on board to start the girls in their matches and the entertainment was enhanced by a trick shot show by Rob Brown. The food was delicious. Trent lock did a great job.
Our scratch team won their final match against Shropshire a convincing 4 1/2 to 1 1/2 and retained the Scratch league salver for the Second Year. Our handicap team were always under pressure with giving away a lot of shots. All great experience. Our smaller players did us proud with Georgia Lynn from Trentham winning a short game comp and Mia Sepe from Onneley her 9 hole division.
Congrats to all our girls.
This year's teams have been Emily Brennan, Morgan Thomas, Courtney Brown, Ella Pugh, Hannah Goulding, Rachel Birch, Leanne Nixon, Katie Symmonds, Katie Matthews, Phoebe Perks, Emily Sutton (captain), Holly Hunt and Georgia Pritchard.
We wish Emily Sutton luck as she has started college in America.




Staff Girls Bronze Cup - Stone Golf Club - 15th August 2016
On the 15th August the Bronze Cup and the "Blue" competitions were held at Stone Golf Club. The latter competition is for girls who do not have a CONGU handicap and is played over 18 holes.
Bronze Cup
1st. Kate Mathews (Trentham) 42pts
2nd Maria Tiffany Thompson 37pts BB9
3rd Izzy Robinson 37pts


"Blue" Competition
1st Mia Sepe (Wolstanton) 53pts
2nd Charlotte Taylor 41pts
3rd Neve Collins 38pts
The weather was good and the girls all enjoyed their golf.


Staff Girls
Our girls have done us proud again affirming our dominance within Midlands North by remaining undefeated for a second year. Having beaten Notts and Derbyshire at Lingdale golf club earlier this year they repeated their success by beating Leic and Lincs at Chevin golf course on 8th August.

A final match v Shropshire will occur on August 22nd as part of the Celebration of girls golf held at Trent lock golf club.
This is the first time an event of this size is happening with 120 girls from 6 counties converging on Trent lock.

To add to the accolades Staffs won best nett team prize at the MNR event held at Keddleston on 5th August with Elka Pugh from Walsall winning best nett prize.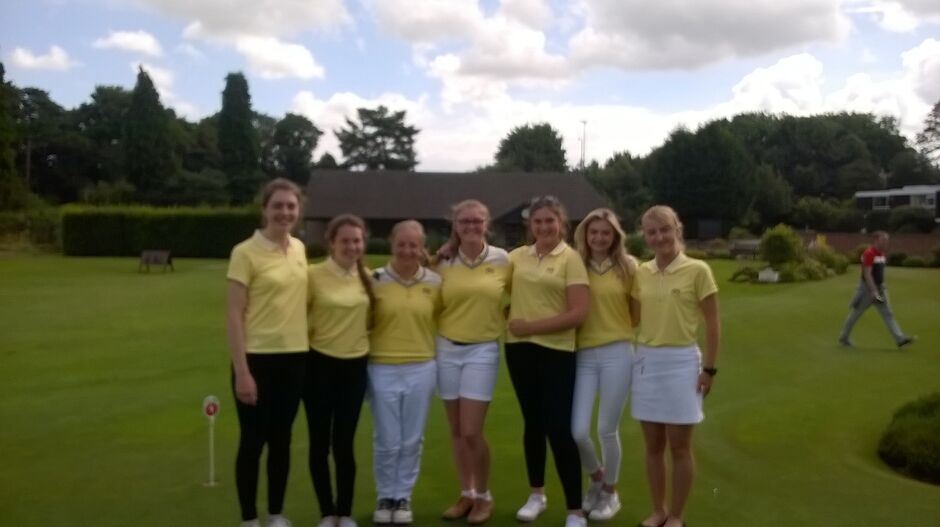 Staffs Girls v Derby & Notts
Birstall GC played host to our new format of 36 holes against 2 counties on one day and Staffs girls were victorious beating Derbyshire 6-0 and Notts 4 1/2 1 1/2.

The weather was dreadful but Morgan, Emilies Brennan and Sutton, Rachel and Ella and Georgia did us proud. Next is Lincs and Leicestershire at Chevin on Aug 8th.


English Schools' National Championships 2016
Selection for Internations
Scotland - Boys
| | | |
| --- | --- | --- |
| | Name | County |
| 1 | Jake Bolton | Avon |
| 2 | Jack Dyer | Essex |
| 3 | Will Hopkins | Lincolnshire |
| 4 | Jon Hopkins | Hertfordshire |
| 5 | Enrique Dimayuga | Surrey |
| 6 | Matthew Freemand | Nottinghamshire |
| 7 | Olly Huggins | Avon |
| 8 | James Wilson | Northumberland |
| 9 | Jack Trewhitt | Durham |
| 10 | Will Marshall | Durham |
| 11 | Greg Holmes | Lancashire |
| 12 | Ryan James | Warwickshire |


Scotland - Girls
| | | |
| --- | --- | --- |
| | Name | County |
| 1 | Jessica Hall | Durham |
| 2 | Lucy Walton | Worcestershire |
| 3 | Amy Taylor | Norfolk |
| 4 | Alexandra Giles | Avon |
| 5 | Morgan Thomas | Staffordshire |
| 6 | Rebecca Earl | Essex |


Wales - Boys
| | | |
| --- | --- | --- |
| | Name | County |
| 1 | Jake Bolton | Avon |
| 2 | Jack Dyer | Essex |
| 3 | Jake Craddock | Lincolnshire |
| 4 | Arron Edwards-Hill | Essex |
| 5 | Ryan Smith | Bedfordshire |
| 6 | Daniel Pearce | Warwickshire |


Wales - Girls
| | | |
| --- | --- | --- |
| | Name | County |
| 1 | Amelia Williamson | Norfolk |
| 2 | Ellie Brown | Norfolk |
| 3 | Thalia Kirby | Buckinghamshire |


Staffs Girls v Worcestershire (Friendly) - Perton Park GC - 12th June 2016
Georgia Pritchard 9 Alice Brooks 4 Won 3/2
Hanna Goulding 13 v Constance Brooks 8 Won 2 up
Katie Symonds 14 v Kirsten Lucas 12 Lost 8/7
Leann Nixon 16 v Sharma Lucas 19 Won 1 up
Jasmin Lou 17 v Lacey Haynes 19 Lost 7/6
Pheoby Perks 17 v Lauren Sharpe 17 Lost 2/1
Katie Mathews 29 v Megan Langford 22 Lost 3 down
Ellie Treadwell 34 v Kiyah Langley 24 Won 4/3
9 hole girls
Olivia whittle 35 v Lilly Rose Hunt 31 Halved
Amilia Taylor 36 v Annelie Fidoe 33 Lost
Result lost 51/2 41/2
Staffs Girls v Cheshire - Greenway Hall GC - 8th May 2016
Victoria Turner - 8 Katie Symonds 16 won 1 up
Louise McLoughlin - 12 Pheobe Perks 17 lost 1 down
Bethany Hatcher - 15 Leann Nixon 19 won 6/5
Kayleigh Devaney - 15 Katie Mathews 29 won 8/7
Alix Esclapez - 18 Caprice Sanders 33 won 4/3
Zoe Hatcher - 23 Olivia Whittle 35 won 4/3
Reserve: Ellie Treadwell 35


Staffs Girls v Shropshire - Stone GC - 1st May 2016
All the girls battled well . weather was wet and cold but they all found it hard to give so many shots.
Stone golf club were very accommodating . Thanks to Shirley for organising Shropshire girls. Well played .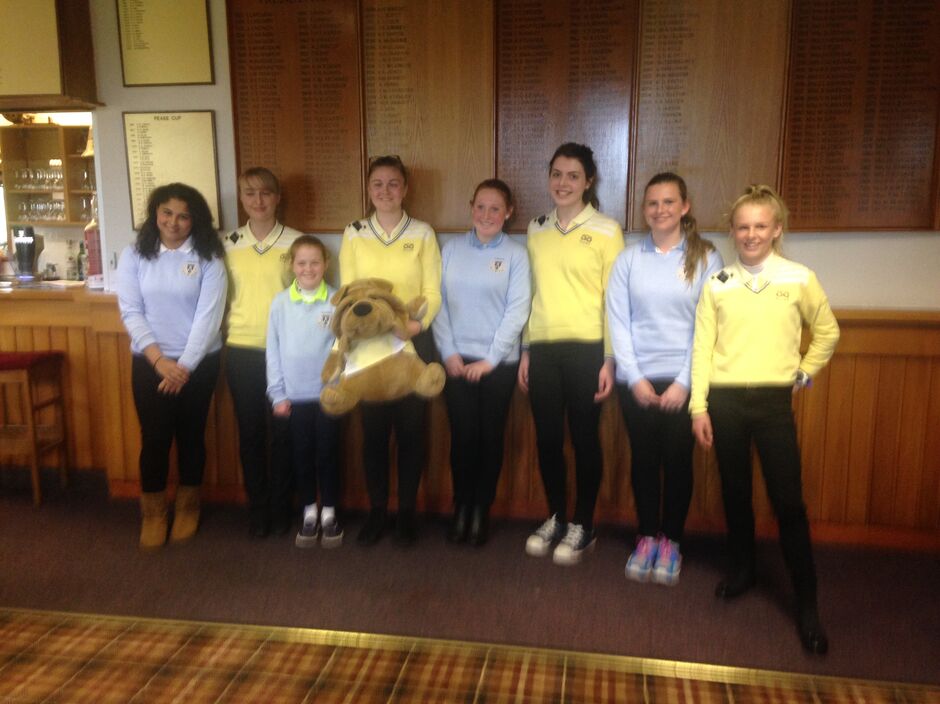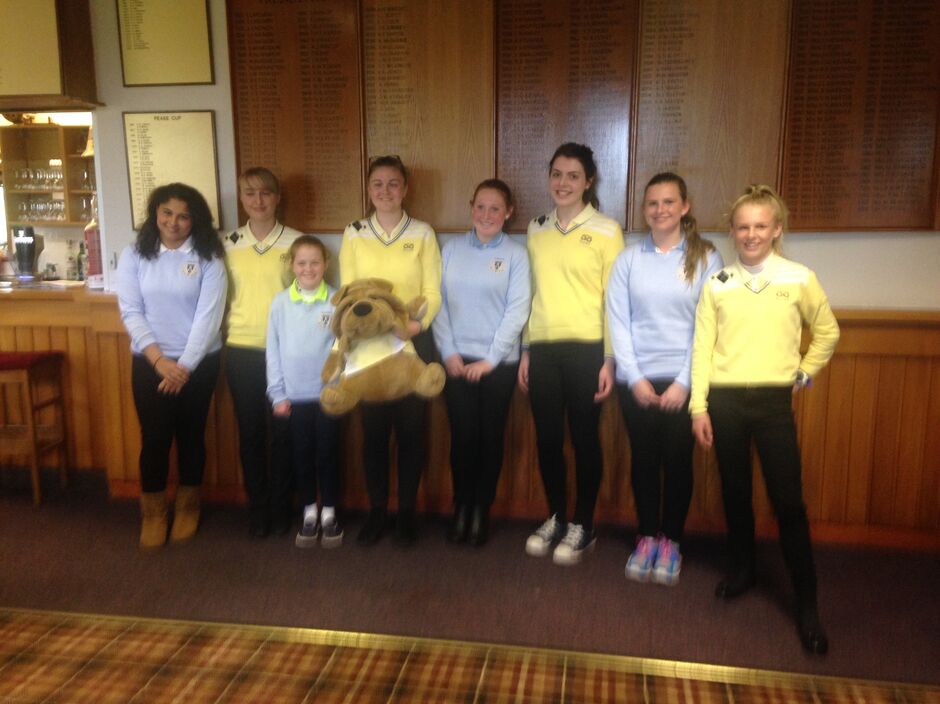 Staffs County Junior Girls Championship - Oxley Park GC - 24th April 2016
Results
| | | | |
| --- | --- | --- | --- |
| Champion | Fern Clark - Beau Desert GC | 82-75 | 157 |
| Runner Up | Morgan Thomas - Beau Desert GC | 76-82 | 158 |
| Best Nett | Emily Sutton - Walsall GC | 81/73 80/72 | 145 |
| 2nd Nett | Georgia Prichard - Beau Desert GC | 85/76 82/73 | 149 |
| Bronze Plate | Kate Matthews - Trentham GC | 36 points | |
| Runner Up | Caprice Sanders - Sandwell Park GC | 34 points | |
| U16 Champion | Morgan Thomas - Beau Desert GC | 158 | |
| U14 Champion | Katie Symonds - Aston Wood GC | 196 | |
A very exciting Championship was played in very cold winter conditions ! Fern Clark emerging from a disappointing first round to win by 1 shot from Morgan Thomas. Both girls from Beau Desert GC.
We had one of our biggest turn outs for the championship with 15 entries plus a few new faces, thank you girls for your support.
The pins had been placed in some difficult positions which made putting tricky. The course had been presented well by the greenkeeper and his staff, we were looked after by the Ladies of Oxley Park especially the County Delegate, Sandra Redrup, Joan - Ladies committee and The Lady Captain, who organised ball spotters, 1st Tee Starters, local rules and home made cakes !!
Thank you to everyone who contributed in making the championship a success.
Next years Championship is at Sandwell Park GC Thursday 20th April.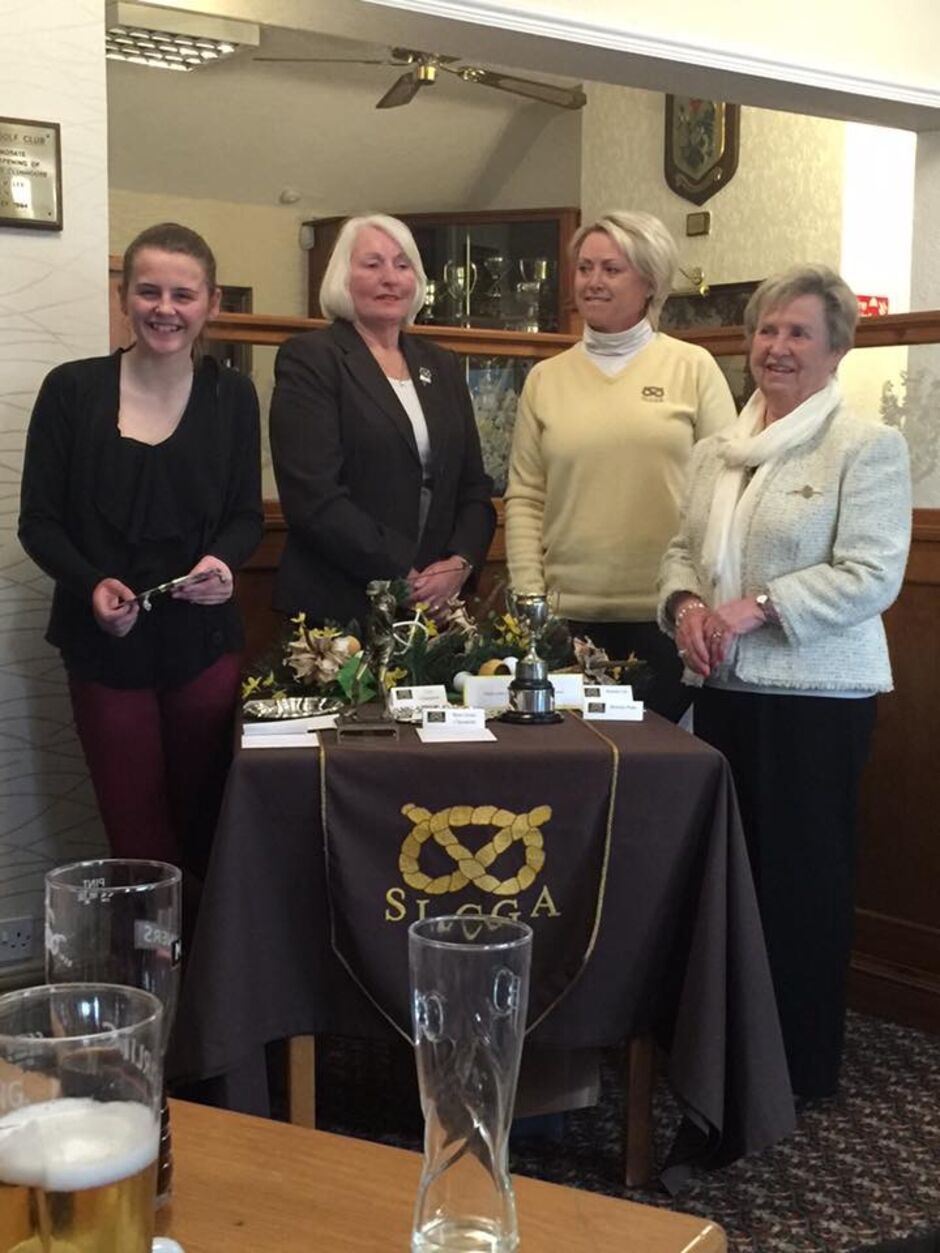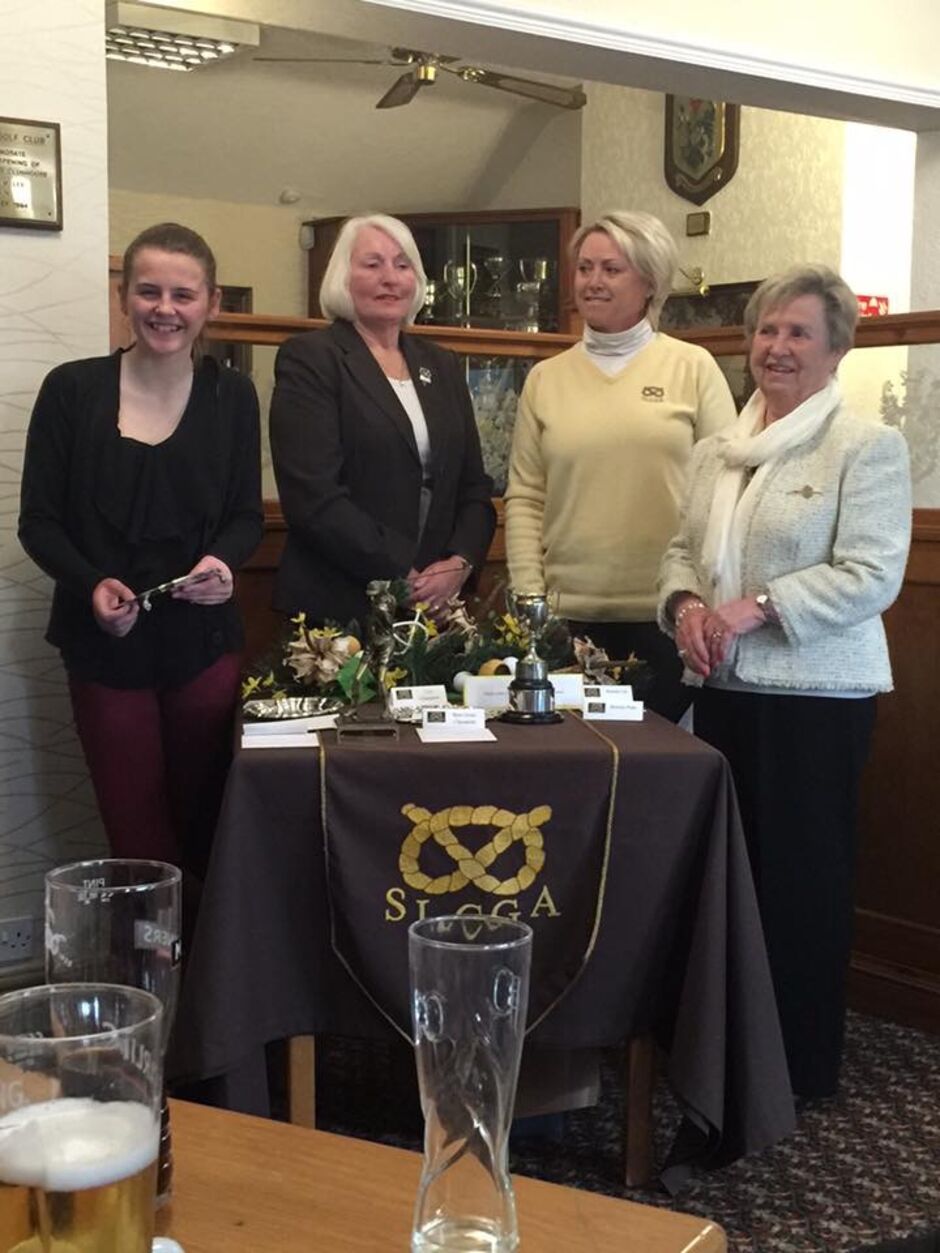 Kate Matthews won the Bronze Division of the 2016 Staffordshire County Junior Girls Championship played at Oxley Park golf Club.
What a day of celebration. The girls' captain Emily Sutton's 18th Birthday and a great turn out of players. Oxley park hosted the event and kept us well fed and watered with home-made cakes and hot coffee. The hospitality was superb and the girls played well despite the rain, cold and wind. Many congratulation to our winners.
Our thanks go to Lady Captain - Pat Rogers, Lady secretary - Joan Lee, Junior organiser - Pete Prescott, County membership secretary - Mike Entrecote, Sandra, Maureen and Janet for helping with the younger players and all ball spotters and starters.
Thanks also to our Junior county committee : Julie Brown , Wilma Kyle, Therese Douglas, Maria Pritchard and Our President Val Mason for coming to watch the girls in action.
Rabbits Championship - Lichfield GC - 17th April 2016
The Rabbits Trophy was held at Lichfield Golf and Country Club.
There were 26 girls who entered and they all enjoyed themselves. The scoring by all was very good as can been seen by the results:
| | | | |
| --- | --- | --- | --- |
| 1st | Mia Sepe | Wolstanton GC | 34 |
| 2nd | Ruby Horrobin | | 43 |
| 3rd | Holly Branson | The Chase GC | 44 |
| 4th | Maria Tiffany Taylor | Lichfield GC | 47 |
| 5th | Jamie Hand | Onnelly GC | 48 |
Junior Staffs Girls v Walsall Ladies - Walsall GC - 17th April 2016
Walsall ladies hosted a match on Sunday 17th April against our girls and with the sunshine and the start of Spring (at last) the ladies accommodated lthe juniors and gave them a run for their money. The girls thoroughly enjoyed themselves and special thanks go to Eileen Geddes who has moved to Whittington Heath and has organised the fixture for the past number of years. We thank her for her time, effort and generosity and wish her well.
Thanks to Maria Pritchard for organising the match today.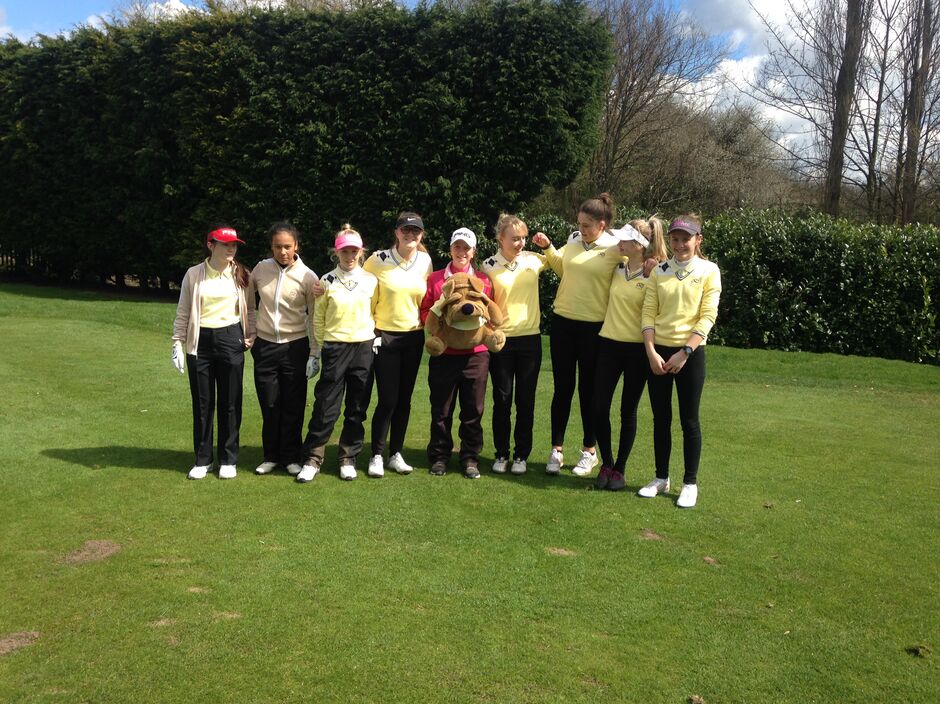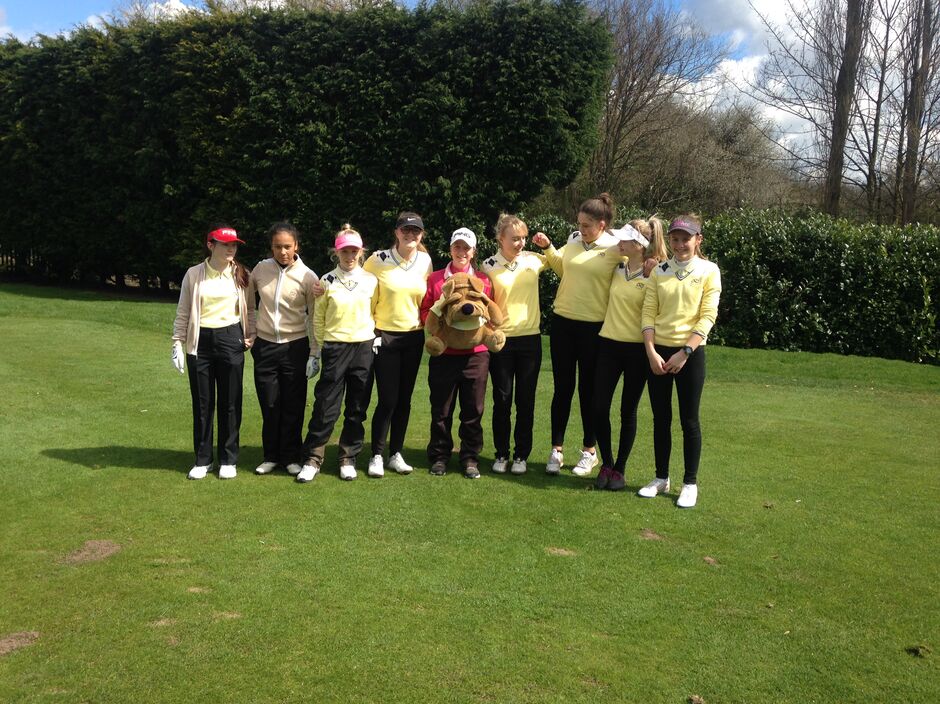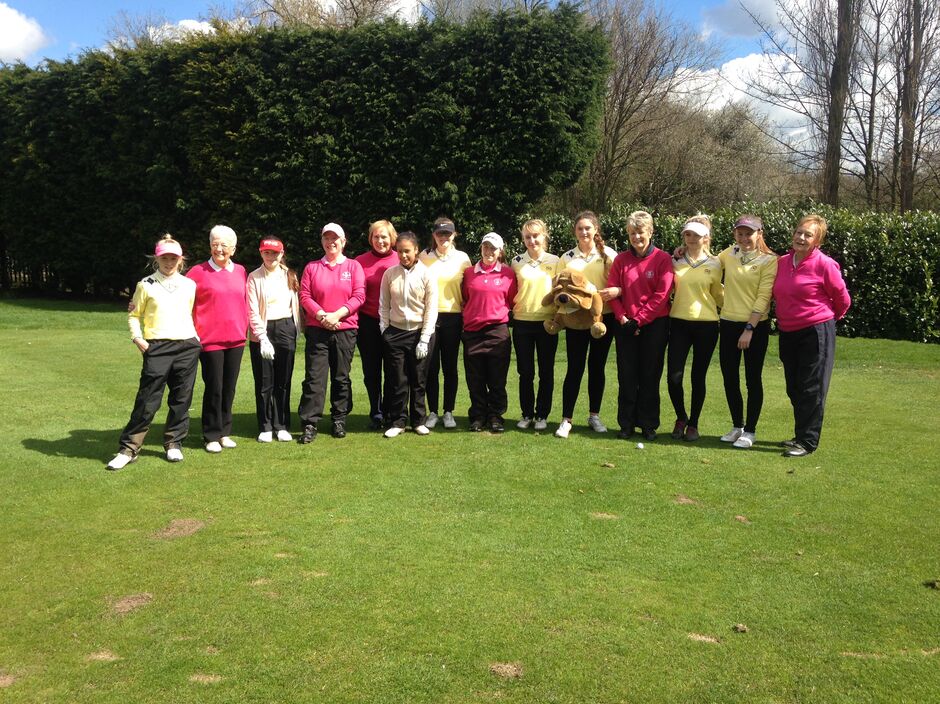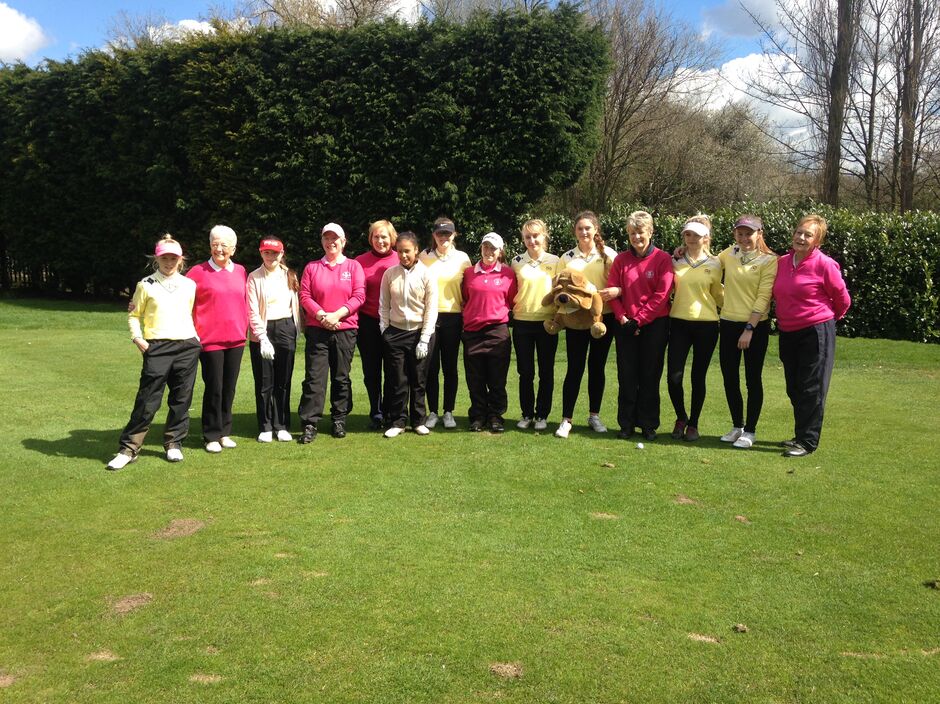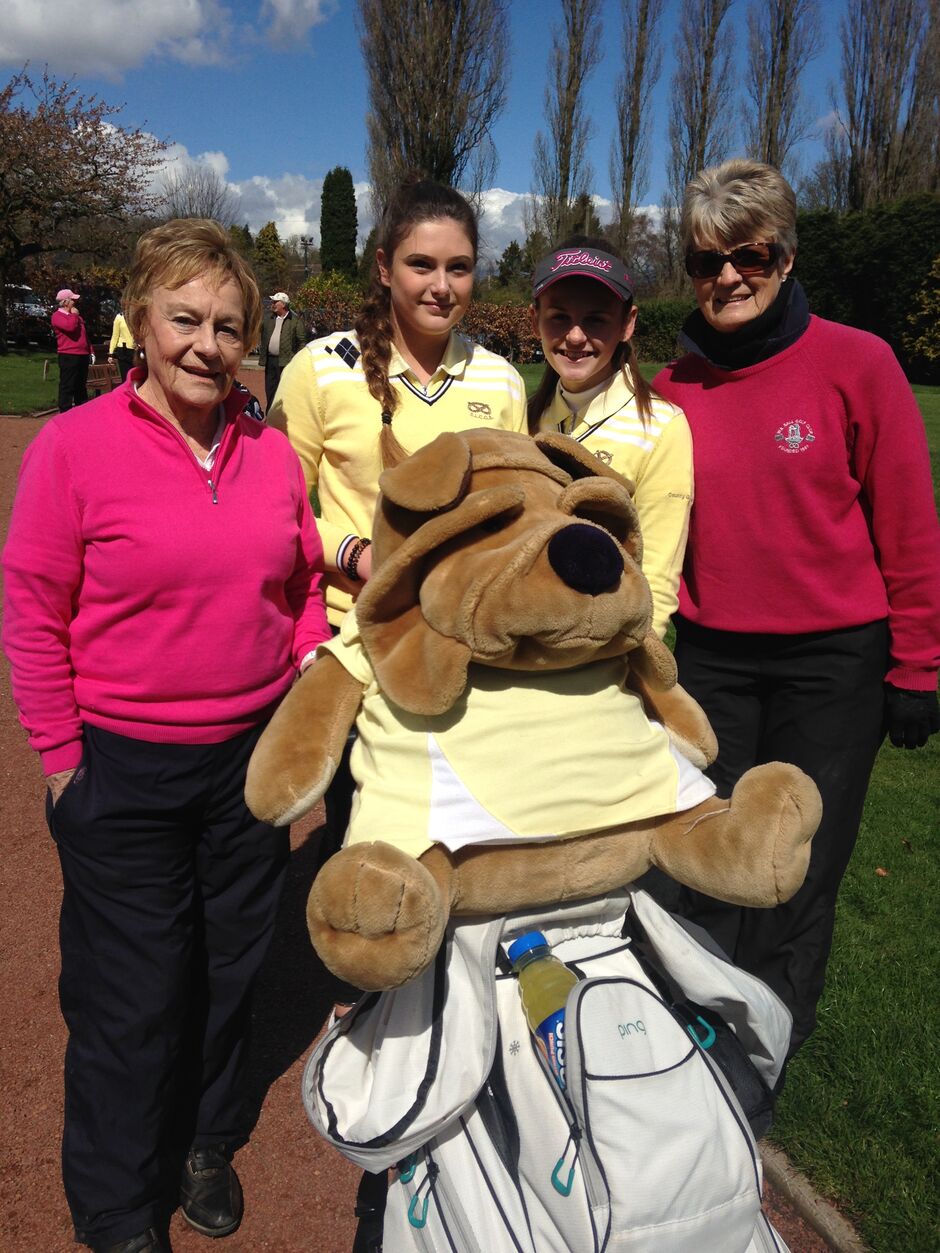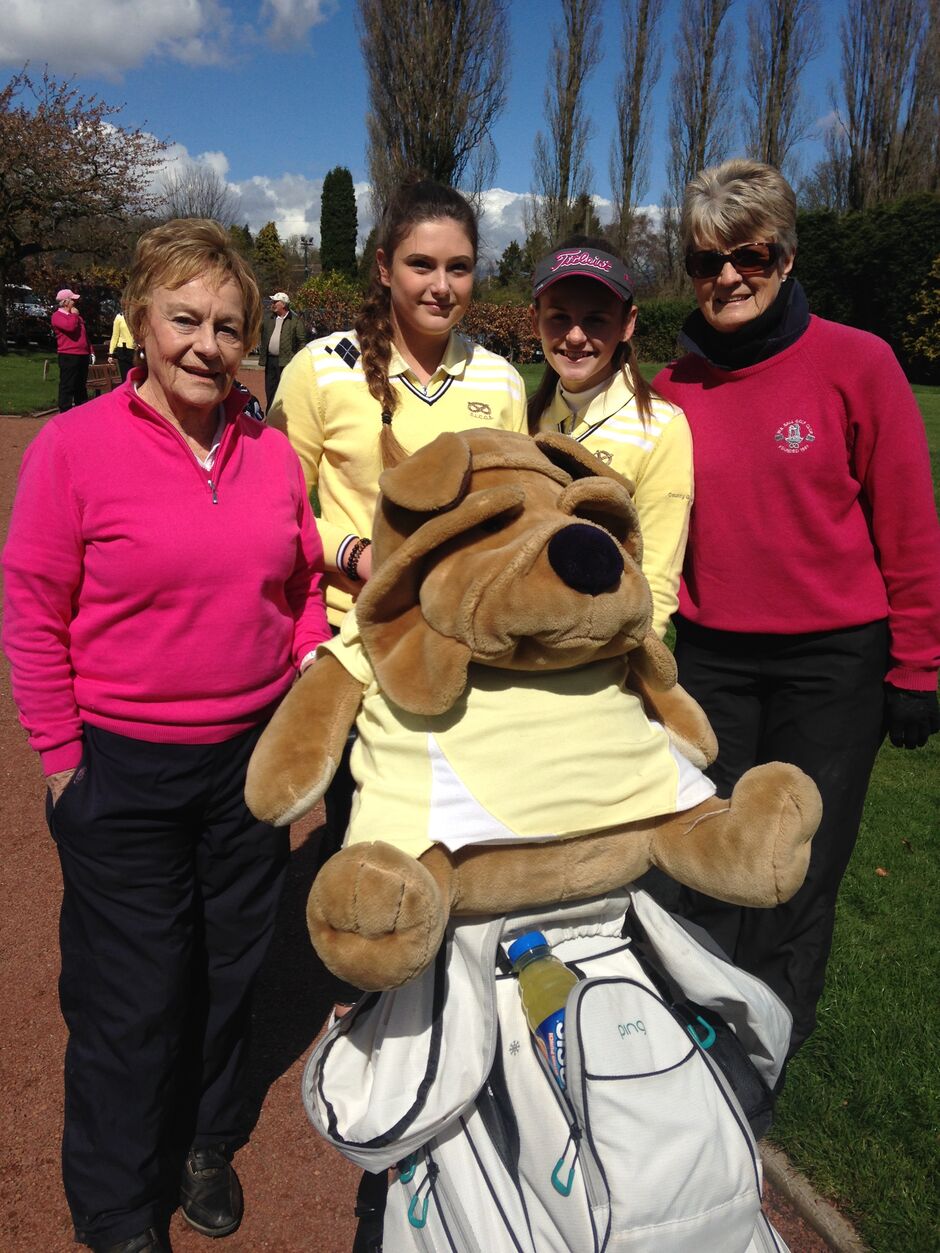 Junior Staffs Girls v Derbyshire - Leek GC - 9th April 2016
Leek golf club was the venue of our first county fixture with Holly, Katie Symmonds, Phoebe, Leanne and Katie Matthews playing for Staffs.
A tough match with our girls giving a lot of shots. They played well and the score of 1/4 defeat doesn't reflect on how well they played. Well done girls.
Proud of you. Mandy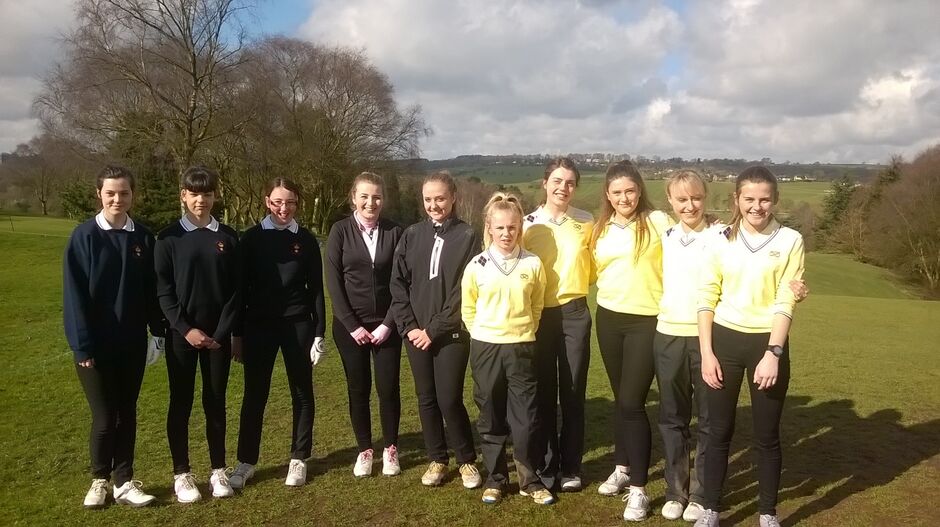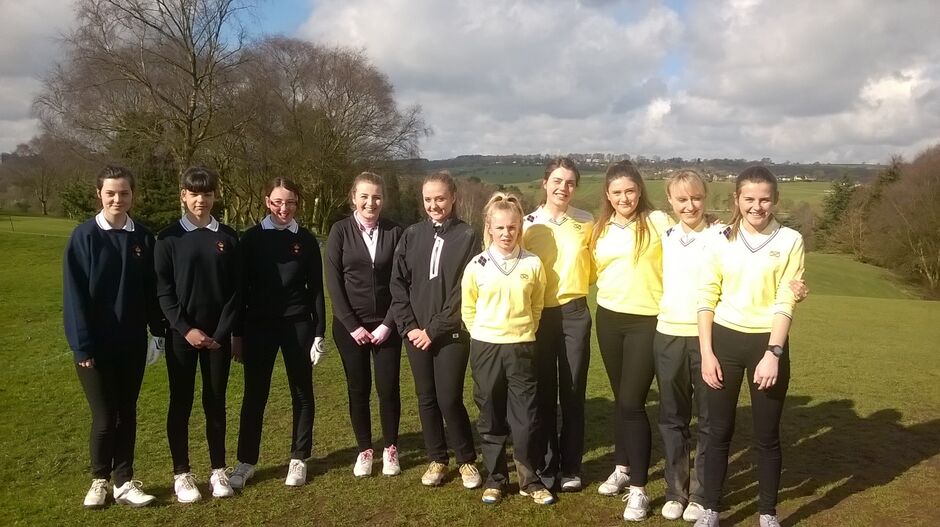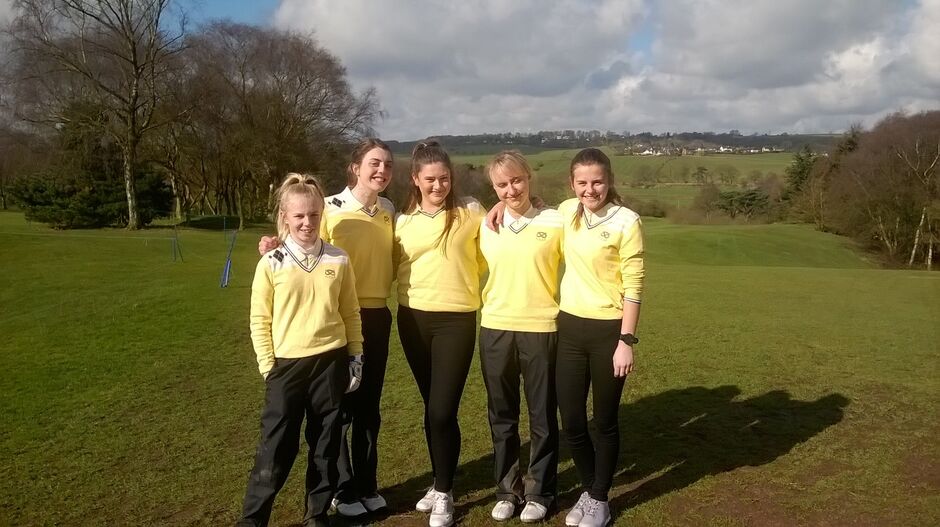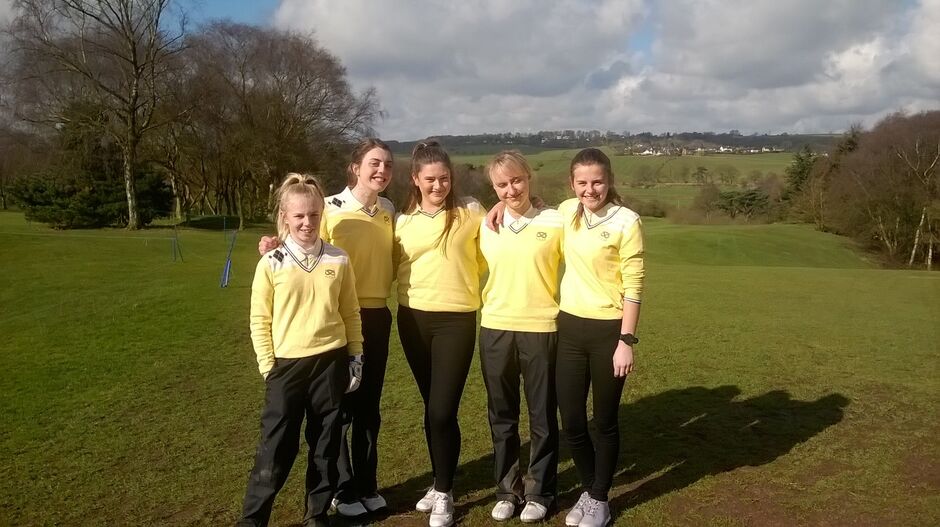 Junior Staffs Girls v Staffs Boys - Trentham GC - 3rd April 2016
Trentham golf club hosted the annual county boys v girls. Our team looked great in their new kit and played well. We narrowly lost 6/4 and ours girls showed what they are made of. So onwards to our new season and we look forwards to another successful year.





Winner of Most Imporved Sports Performer 2015 at Stafford Borough Sports Awards goes to Hannah
Success for Brocton Hall junior member Hannah Golding at the Annual Stafford Borough Sports Awards 2015
The ultimate Sports accolade was given to Hannah Golding on Friday 26th February 2016 where she won the Stafford Borough Most Improved Sports Performer of the Year Award at the Annual Awards for 2015, which is sponsored by Stafford Newsletter. The night was well attended with quite a few members from Brocton turning up to support Hannah in her achievement.
2015 has been a fantastic year for Hannah, not only at club level but at County and England Golf levels. Her achievements include, winning the Staffordshire Girls 36 hole Nett Championship (at her first attempt); second in the Staffordshire Junior Order of Merit in both the Nett and Gross Divisions and winning the Staffordshire Girls U12 Championship.
At an England Golf level, she qualified via the ladies section to play in the Regional Final Gold Medal. This is awarded to the lady with the best four medal rounds during the (previous) year. The top ten qualifiers from each region then go forward to the National Grand Final competing against ladies from all the other English Regions. Hannah came third in the Regional Event and so went to the Grand Final. Here she competed against much more experienced lady players and was by far the youngest competitor. Hannah came second in this National Championship. In 2015 Hannah, for the second consecutive year, qualified again for the E G Gold Medal, so will be playing in the 2016 competition.
Hannah's handicap has dropped from 22 at the start of the season to 12.
We wish you a very successful 2016 Hannah.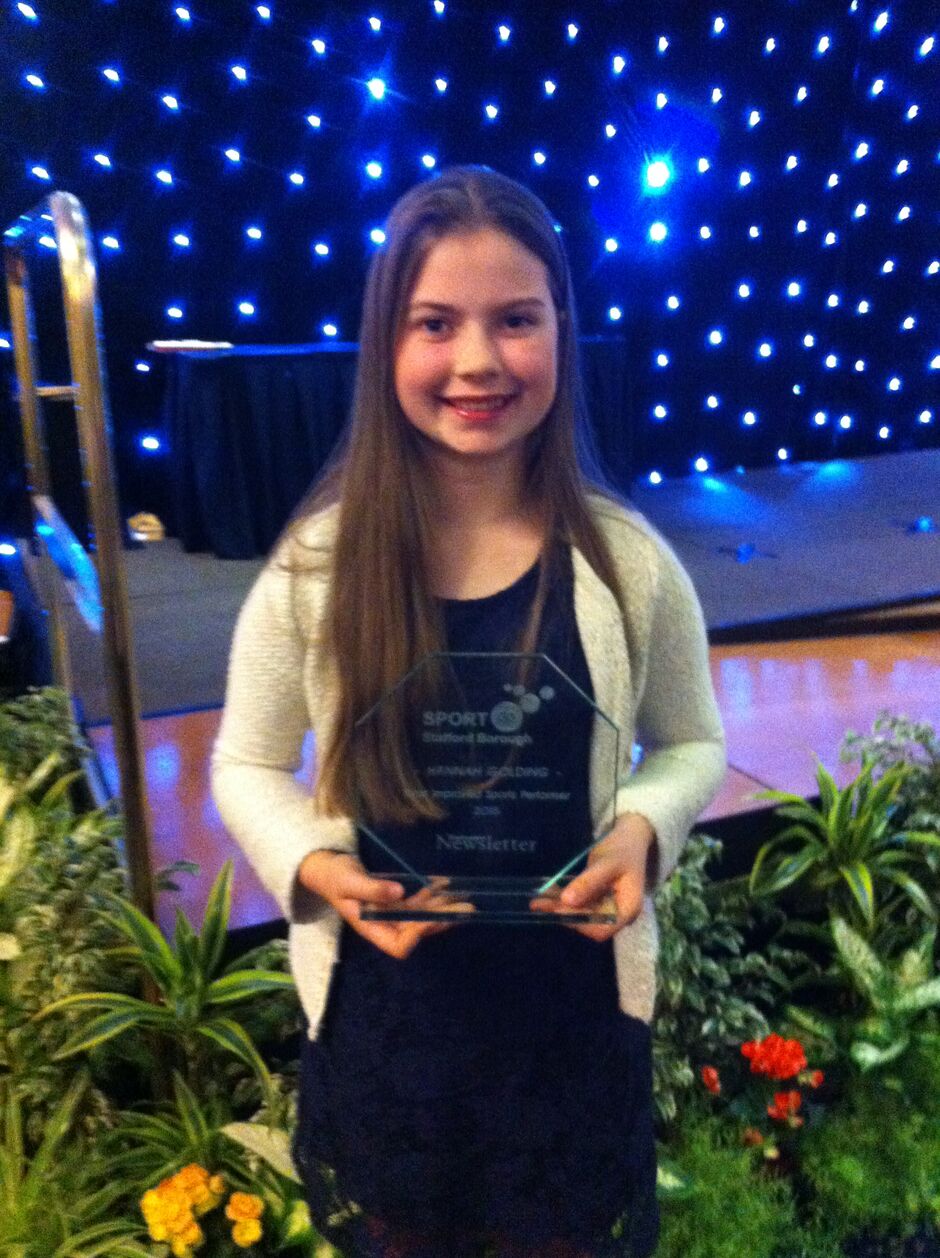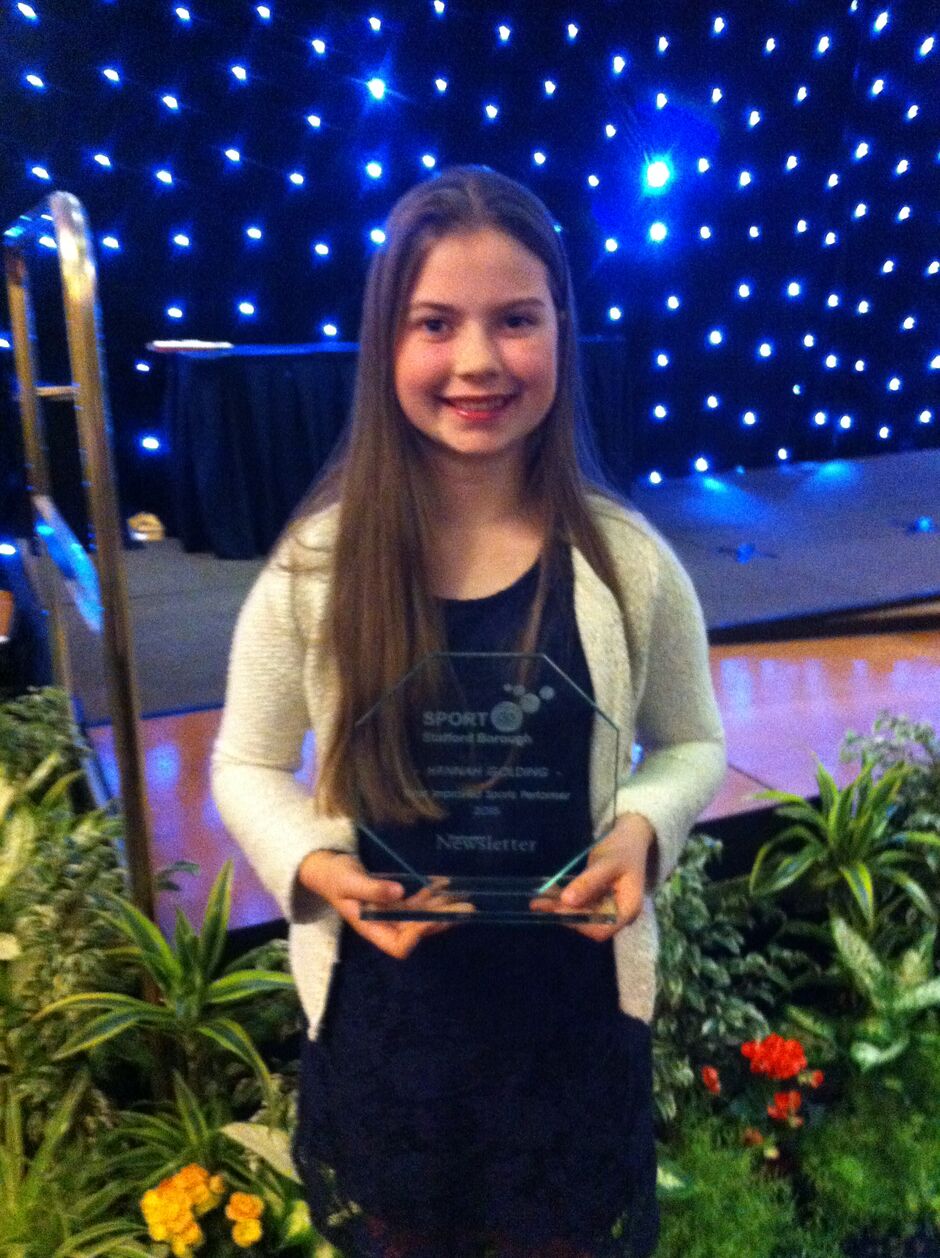 First Junior County Training 2016
3 hammers with Rob Bluck and first junior county training for the girls. Serious stuff in preparation for tho season. Bring it on girls - Mandy Ambert.


County Girls celebration Day at the Three Hammers Golf Centre



Elite Players 18 hole medal
1st. Ella Pugh Gross 56 2nd. Georgia Pritchard gross 59
Development Squad Stableford. 9 holes
1st Georgina Lynn. 25 Points 2nd. Ellie Ashley Brown. 24points
Solheim Squad Flag Comp
1st. Olivia Whittle 2nd. Lola White
36 girls played, followed by sandwiches and chips. Presentation of prizes.
Retiring Captain passed the badge over Fern Clark. To Emily Brennan vice Captain, as next years Captain Emily Sutton was in America visiting an university. Fern made a great speech and wished everyone success for next season, as she now leaves the juniors. County colours were won by Morgan Thomas and presented. The team also saw the salver which they won this year ( MNR League ).
The County players were introduced to the younger players, and county officials who attended the day.
Everyone had a good day, and the rain stayed away.
A big thank you to Rob and Tom at The 3 Hammers Golf Complex for organising the day.