2018 Season (Details to added asap)
2018 Divisions: North Trentham, Leek, Stone, Barlaston, Trentham Park
Mid-Staffs The Chase, Brocton Hall, Ingestre Park, Bloxwich, Walsall, Great Barr
South East Branston G&CC, Drayton Park, Darnford Moors, Beau Desert, Druids Heath
South West Enville, Penn, Sedgeley (Mark Butler Golf Academy), South Staffs, Halfpenny Green, Sandwell Park
Semi Final date TBA
Final at Uttoxeter GC 22nd September
Click here for 2018 North division fixtures
Click here for 2018 Mid-Staffs division fixtures
Click here for 2018 South East division fixtures
Click here for 2018 South West division fixtures
Click here for 2018 league rules
Click here for 2018 Junior Organisers details
Results Junior Club Leagues Final
South Staffs GC 23rd Sept 2017
A closely fought matchplay final between the 3 League winners resulted in a win for Trentham with 6.5 points, 2nd place Sandwell Park with 5.5 points and 3rd place Branston with 3 points. Thanks to South Staffs GC for hosting the event in glorious September sunshine on their fine test of golf. Details below.
​Results League Final 2017.pdf


2017 Season
Click here for latest 2017 league tables
Results Junior Club Leagues Final -
Perton Park 24 September 2016

2016 Winners Darnford Moors
Results Clubs League Final 2016 .pdf
League fixtures 2016
Junior Organisers 2016
STAFFORDSHIRE JUNIOR LEAGUE ORGANISERS 2016.3.pdf
RESULTS LEAGUE FINAL 2015
Ingestre Park GC 26 Sept. 2015
The Final of the three Leagues was played as a Tri-Match, in amazing end of September weather at Ingestre Park GC,
between the winners of this years three leagues. North - Beau Desert, S. West - Walsall, & S. East - Great Barr.
Results & Photos below:-
Winning Teams Left - Walsall, Centre - Great Barr, Right - Beau Desert
Overall Winners Beau Desert
L-R, Reece Pritchard, Morgan Thomas, Georgia Pritchard, Fern Clark, Joe Roberts.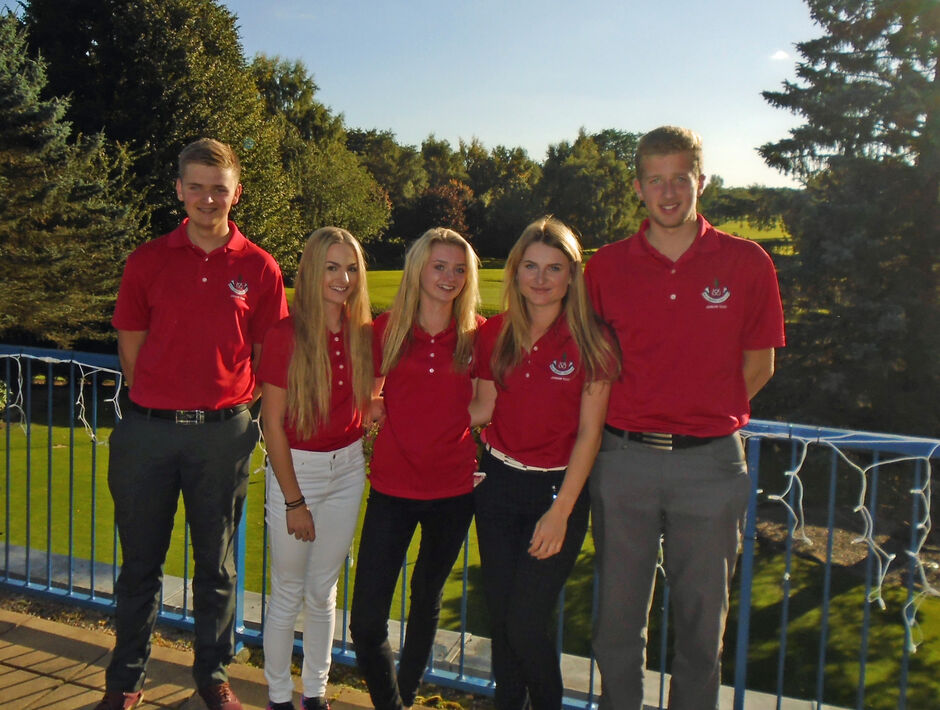 Teams pictured below before the competition.